How to become a part of the plan
FINALLY, A LOW COST HEALTHCARE PLAN WITH WORLDWIDE COVERAGE AND FANTASTIC BENEFITS!
FOR 2020-2021 RATES & FORMS EMAIL RAY@FOCUSONMEXICO.COM
Focus on Mexico has partnered with BEST DOCTORS (www.bestdoctors.com) to offer a Best Doctors Group Health Plan for Focus on Mexico.
Take a moment to view the video below … it will affirm for you why you would choose the Best Doctors insurance plan

Note: This insurance covers major medical items as set out in the Summary of Benefits sheet, in addition to personal accidents, air and ground ambulance, and travel benefits.
Why we chose Best Doctors
Check out the people offering the leadership behind Best Doctors
Creating a plan offers a lower annual premium and many additional benefits over the Individual Plan. A major benefit being that after 12 months, pre-existing conditions are automatically covered and you can apply up to and including age 74 years plus 11 months. The price (for everyone inside the plan, regardless of age) is ONLY $2,157.00 USD annual payment. YES, only $2,157.00 USD per year (equivalent to $179.75 a month). Worldwide coverage!!! FANTASTIC… (Note: To be eligible you must have a residency visa in Mexico or if on an FMM, you may apply but coverage cannot be issued until you obtain a residency permit.)
The deciding factor for Focus to partner with Best Doctors to offer our clients affordable insurance was a unique one-of-a-kind benefit offered by Best Doctors, InterConsulation. You have access to the top 5% of the Best Doctors in the World for a second opinion and InterConsulation. Check out  https://bestdoctors.com/for-individuals/how-we-can-help/
A Family of Services for You and Your Family
Founded in 1989 by Harvard Medical School physicians, Best Doctors serves 30 million members in 70 countries. For over 20 years, we have asked physicians to identify the doctors they consider the leaders in the field. Today, our peer-selected network has more than 53,000 medical experts in over 450 specialties and subspecialties. Our personal, compassionate services include:
InterConsultation™ expert medical reviews
Medical Concierge™ Coordination of medical appointments, hospital admission, travel arrangements and accommodations when services are rendered outside of the person's country of residence. (Mexico).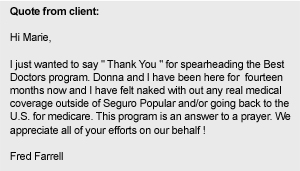 NOTE: *This is one of the best insurance options you will find anywhere. If you have an interest in finding out more about this Group Plan, please immediately contact: ray@focusonmexico.com
If you currently have Health Insurance coverage you can apply for the Focus Group Plan and switch over at the end of your current coverage.
How to become part of the plan
All the Best Doctors application forms must be included in your application, however, some sections on a specific page may not be required for the Focus On Mexico plan. If the information is not required, it will be crossed out with a Red x. You must print this page and include it with your application for the Best Doctors group application.
NOTE: When downloading the PDF, some browsers automatically download the document to your "Download" file, if this is the case you will have to open it there.
Supporting Information (NOTE: all these documents are in Adobe PDF format)
In addition to the health insurance, for members in the group medical plan, we now can offer you local retail discounts via the Focus Alumni Discount Card.
Alumni Discount Card Application