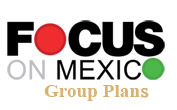 Thank you for your interest in the Focus on Mexico's 'Best Doctors' Group Health Plan. You do not have to be a Focus Alumni client to join. Anyone who qualifies is welcome.
It is necessary to complete this Focus Group Membership Application and have paid the Membership fee 'prior' to submitting your application for the Best Doctors Group.
NOTE: Also just as a reminder, you can apply up to and including the age of 74 years plus 11 months. You must have a residency visa or have applied and been pre-authorized OR you may also join on an FMM (Tourist Visa) providing you reside in Mexico 6 months or more per year.
If any questions or for more information, contact info@focusonmexico.com
Note: If two people are applying, please fill out individual applications, each with a separate email address. Since our system records by 'unique email', if two people use the same email address, the second form will overwrite the information from the first.