In response to the pandemic, Focus has developed online programs that cover the essentials of moving to Mexico – via an interactive online format. While our 6-Day live programs at Lakeside have restarted, dozens of our new friends have enjoyed taking the new online format. If getting to a live program is not within reach for now, consider this program!
Using our 20+ year experience at helping people transform their lives in Mexico, we've applied our proven Live 6-Day formula to our online programs and created a 9-Step RoadMap that walks your through a move to Mexico.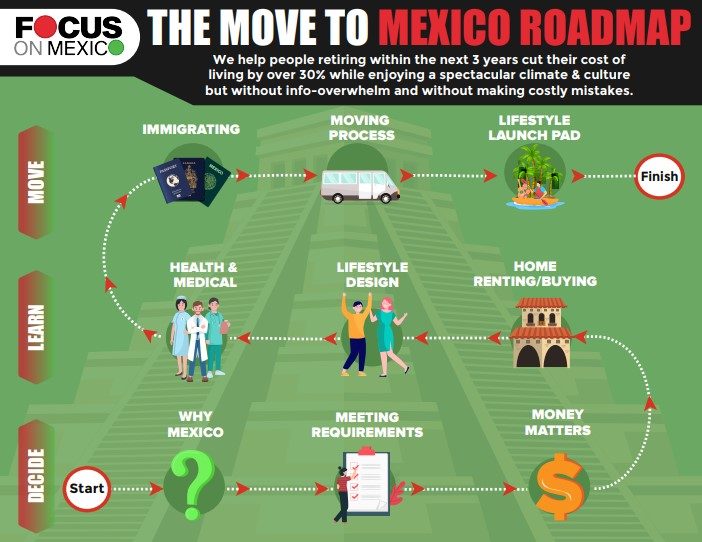 Whether you are thinking of moving Part-Time or Full-TIme, the Move2Mexico RoadMap program has broken the journey, that everyone eventually takes when moving to Mexico, into 9 Essential Steps. The journey progresses from confirming that Mexico is for you, to learning the essentials (health care, cost of living, renting or buying, immigration etc), and then to the nitty-gritty of how to make the move.
Each online Zoom session dives into each of these nine steps. The benefit is that we help you do it right the first time – and help you avoid any big mistakes in this life changing decision. NOTE: our Program focuses on helping you move to the Lake Chapala area, but about 70% of the information will be relevant for anywhere in Mexico.
In addition to the online Zoom classes, helpful written resources and expert videos on each topic are posted on the RoadMap website. All the live, interactive Zoom classes are recorded and uploaded to your RoadMap website so that you can watch any class you might miss, or replay it for review down the road as you need a refresher.
Michael Nuschke, co-owner of Focus On Mexico, is your guide through this 6-week program. Other experts on key topics like Medical Care and Immigration are brought into the live Zoom sessions to directly answer your questions. Participants can type in questions during the live sessions or send them in by email. That way, even if you can't make the Class live, you can hear your question getting answered on the replay.
Create Your Move2Mexico RoadMap
As the 6-week program unfolds, you will create your own written RoadMap – a step-by-step guide for your personal Move2Mexico journey. By the end of the program, you will have all your key questions answered, and be armed with the essential information and know-how to make the move a reality.
After the last Session, Michael will schedule a one-on-one phone call with you so that you can review your personal RoadMap with him and answer any last questions you might have.
Group Learning Format Brings Connections
One of the big benefits of having a live learning experience with a group is that you get to hear the questions and answers of other participants. On nearly every class we hear something like, "Oh, that's a good question – I'm glad that you asked that!"
Group Zoom connection happens before and after each presentation, and continues via a Private Facebook Group. This Facebook group already has many other Focus Program alumni as members. They are all going through the same Move2Mexico Process – or have recently made the move. You are free to exchange ideas, tips, pictures or questions. Focus staff add additional content and address questions as needed. This is your way to stay in touch with your class and meet others on the journey. Many eventually meet up live at Lakeside!
Also, our program provides the contact info for key experts that you can contact directly as needed.
"We would say that this class is a MUST DO if they are considering moving to the area. We had several questions answered that we were wondering about for instance bringing our car, health insurance, banking options and rental prices. We want to thank you for putting this class together. We are looking very forward to meeting you and your team." BECKY & DON THOMPSON
How to Start
If you are ready to dive in, just click on the link below to go to the Program Description and Registration pages. The program dates, details and pricing are found there. Pay attention to the 2 Bonuses – they make this program a "no-brainer" for anyone serious about moving to Lakeside.
After Registering, you will receive a welcome email which invites you to schedule a one-on-one intro phone call with Michael. He will ask you about your journey to date and see what areas are of most interest/concern to you. Each program is guided by these intro-calls to help adapt each class towards participants issues or questions.
Moving to Mexico is a life transformative experience. We look forward to the privilege of guiding you through successfully and confidently. Hope you can join us!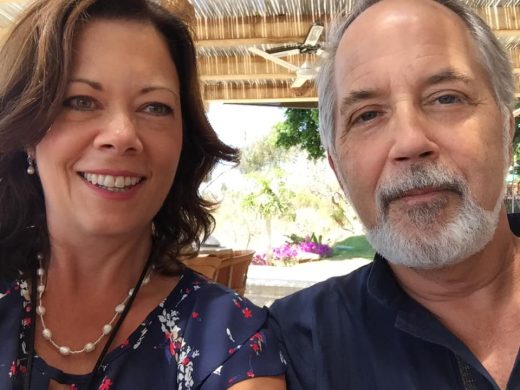 Michael & Rhonda Co-owners of Focus On Mexico
Still have questions? Just email us at; info@focusonmexico.com