What you will Learn on your Learning Experience in Mexico in Lake Chapala
There is nowhere else better to get the information you will learn during your Learning Experience in Mexico than by taking a Focus Fast-Track-to-Learning program. Each Seminar is worth the price of the program. Imagine getting a Learning Experience in Mexico in just one week – everything you need, every question answered (including many you never thought of). You get everything in one fell swoop.
You'll have access to our recommended Specialists, the best in their field. AND we even extend an invitation to come back again, anytime in the next 5 years following your program, to sit in on the sessions again for Free. You have nothing to lose and everything to gain.
February 26th – March 3rd, 2023 completed!
November 5th – 10th, 2023
February 25th – March 1st, 2024
You'll also be part of the Focus Network and once you have decided to make the move, you will have access to the Focus Alumni Support section on our website to help you make a smooth transition and you also will be eligible for the Focus Alumni Benefits.


Our Expert Speakers and Workbook Cover These Topics: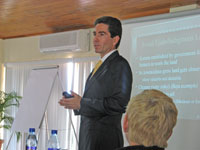 Health Care:
Doctors and facilities – learn about the expertise of doctors and the quality of hospitals, clinics, and other facilities including lakeside private clinics/hospitals.
Hear about brand new hospitals recently completed and being built.
National health care plans – find out the pros and cons of IMSS vs. Seguro Popular and recent changes to these programs. Learn about the plan with no age limit, or pre-existing condition issues recently open to foreigners.
Private insurance – We'll give you an overview of a private insurance plan offering Major Medical affordable premiums.
Learn about Health Insurance options, Air Evacuation Insurance, and also Assisted Living options at Lakeside.
Learn the reason why having a primary caregiver relationship is the way for most expats to go.
Prescription drugs – are yours available? Cost comparison to the north of the border, many 'prescription drugs' actually available over the counter.
Alternative health care – outline of the many options and overview description.
Learn all about the benefits of joining the Lake Chapala Society
Explore the pros and cons of Mexico's other possible expat destinations
The seminar outlines the many options and identifies combinations to choose from that would give you the best coverage at the lowest cost. No matter what your situation there are options for your consideration.
What you will learn on your Learning Experience in Mexico is simply not available information anywhere else.
Real Estate – Rent or Buy:
Renting options explored
Learn the different rules for renting in Mexico.
Find out why you need a lease in English, and why you should not give post-dated checks or stop payment on a check.
Learn how to stay out of trouble by asking the right questions.
Buying a home
Get the Cheat Sheet for things to watch and learn why some areas are popular and others are not.
Find out about escrow or trust accounts?
What about house inspections or conditional sales?
What about zoning and building codes?
What about the construction process?
Process of buying or building – what do you really need to know?
Economy:
What is happening with the Economy in Mexico?
Where is it going?
Is it safe to invest in Mexico?
Is it better to invest in pesos or dollars?
Implications of the strong Mexican peso on cost of living.
Learn why the Mexican central bank's discipline of building reserves has created opportunities in Mexico.
Immigration:
Visas, FMM, Temporal, Permanente, and which one is right for you.
Where and how to apply for pre-authorization before coming to Mexico.
Criteria and how to qualify including proof of income (monthly or through investments).
Learn special options if you don't meet financial criteria.
Find out the advantages and disadvantages of each visa depending on your circumstances.
What about working papers attached to your visa?
Under which Visas can you work?
Bringing Furniture:
You'll receive a detailed Digital Book covering everything to do with moving your furniture.
You'll learn how you can bring in all your belongings tax-free and how and where to get your Inventory approved and get your Permit to Bring in your stuff.
Bringing Pets:
You'll learn the guidelines for bringing cats and dogs, how many can you bring – depending on driving or flying and also if there is a quarantine period.
What about birds, horses, and other animals; you'll learn that too.
You'll find out about the Vets lakeside and if you can get the food your pet is used to. Even the Vets do house calls.
Bringing or Buying Cars:
What about your foreign plated vehicle – can you bring it into Mexico?
You'll learn under what circumstances you can put Mexican plates (nationalize) – a foreign plated vehicle and the cost and timing.
And also which vehicles you cannot Mexican plate and what happens with your vehicle then.
What happens when the registration expires?
How can you sell it in Mexico?
Why sometimes it is best for one spouse to apply for Temporal and one Permanante visa.
And of course, we have expert people who can assist you with this process.
How and where to get your Car Permit in advance and more.
Money Matters:
There are several considerations with money – Investing in Mexico, including the Stock Market, Funds, Investment houses, and Banks.
Learn whether you should put money in a Mexican Bank or Investment house, how to manage your finances back home, and how to pay bills online including your Mexican bills.
Also, an important consideration is Currency Exchange and we have some International recommended Exchange groups that allow you to go straight to the International exchange and avoid the middleman, which can save you thousands of dollars.
Timing a currency exchange transfer is important. How to plan your major purchases.
Easy when you know how, and Focus shows you the way.
Since Mexico is a developing market, enjoy higher interest rate returns than north of the border.
Insurance:
Learn how to save money on Car insurance and what happens if you have a car accident.
What about house insurance, do you need it?
Flavor of Mexico:
Learn the heart & soul of Mexico and how to best integrate into your new adopted country. Get the low-down during your Learning Experience in Mexico. Get all of your answers and information so you can make a smooth transition. You will be part of the Focus on Mexico network and be invited to come back anytime in the following five years and attend the Seminars again for free.
Is it worth your time and investment? Check out what our Program Participants say about the Focus Program here;  Testimonials Page