Overview
Many who are considering a move to Lakeside are interested in local care options including assisted living facilities either for a loved one or for themselves at some point.  Assisted living is a fairly new concept in Mexico, because most Mexicans still consider it a duty and an honor to care for their elderly family members.  Recent statistics point out that in the state of Jalisco there are only ~1,700 elderly Mexicans in assisted living out of an elderly Jalisco population of ~758,000.  However, there are currently 11 assisted living centers and nursing homes Lakeside geared towards the elderly community of foreigners with varying services and prices, and there are a number of expats living in the area with spouses in a care facility.
New facilities are currently in the planning and building stages including La Pueblita, to be operated by Northstar Senior Living which will have 200 units comprised of independent living, assisted living and memory care.
However, most Lakeside care facilities are small (15 residents or less) and monthly costs range from ~$1,500 USD (simple care facility) to ~$3,500 USD (dementia care).  By contrast, an assisted living studio apartment at a well-know corporate senior housing project in Bend, Oregon starts at $3,000 USD, making the monthly care cost here an affordable option.
El Chante Assisted Living
Focus on Mexico recently visited the newest assisted living center in the area, El Chante Assisted Living, which specializes in convalescent care and assisted living, with a focus on mobility.
I was greeted at the door by Terry Biggar, who is a registered care aide with the Canadian government as well as an accomplished musician.  He offered me a seat in the spacious homey living room and I chatted with his partner, Lori Turner, as he went to bring the residents in for lunch.  Lori is a counselor with 30 years experience and holds a Master's Degree in Intercultural and International Communications.  She has lived around the world, including the U.S., Canada, Japan, Cambodia, Nepal, etc., and still travels to Japan regularly, where she specializes in counseling Japanese businessmen.  When I asked Terry why they decided to open an assisted living center, his response was "Some people like to serve and we derive value from seeing people better than they were."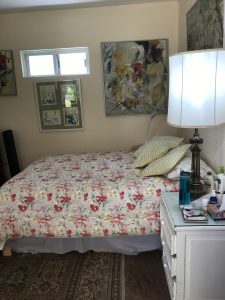 After looking for the right property for a year and several months of negotiations, Terry & Lori settled on the El Chante property with five private rooms and a casita that can house a couple.  Each of the bedrooms has its own spacious bathroom with all necessary safety features recently installed.  The monthly cost is $1,700 which includes three meals a day and two snacks,  5x per week room cleaning. laundry service and dispensing of medications. Each resident has a walkie talkie in their room so that they can call for help at any time.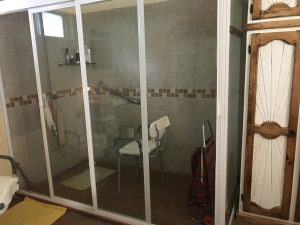 The residents can order whatever they want for breakfast, and lunch and dinner are served at a communal table.  After a tour of the property, we joined the residents for a lunch of chicken soup and chicken curry croissants with ice cream and fruit for dessert.  All of the food is home cooked and tailored to the needs of the residents, and lunch was a pleasant family-like affair.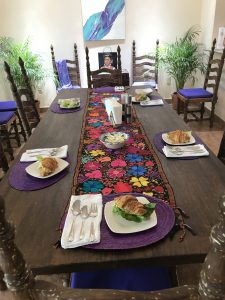 Like other local care homes, residents are routinely transported to events, shopping, Doctor appointments and other outings.
A 93 year-old former Flamenco dancer and ballet teacher is recovering nicely from a broken hip after transferring to El Chante from another facility, and she was planning to surprise her family by showing off her newly reacquired mobility on their next visit.  She expressed how much she enjoys walking the Jocotepec malecon.
Two other residents were much younger, one recovering from injuries sustained in a car accident and the other on a short-term diet and exercise program.   El Chante is somewhat unique in that they accept both short and long-term residents and particularly those with mobility issues who may need shorter term rehab.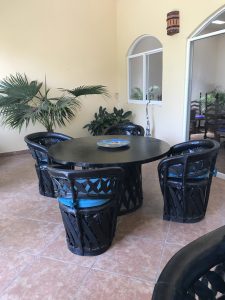 Next door is El Chante Hotel Spa, where residents are allowed to use the pool.  The property also has a spectacular lake view with a variety of sitting areas both indoors and out.
What's the Down Side?
El Chante is about a 20 minute drive from Ajijic and 40 minutes from Chapala without traffic, and traffic can slow the trip down considerably on weekends and holidays.  However, it is close to Jocotepec, Mazamitla and Guadalajara.
Assisted living and nursing homes in Jalisco are regulated by COPRISJAL who inspect about once a year.  Many smaller homes opt out of COPRISJAL supervision due to the length and cost of the approval process, but Terry indicated that El Chante is in the process of getting COPRISJAL approval.
In-Home Care Options
In addition to assisted living, there are a variety of in-home care services Lakeside, including registered nurses and trained caretakers.  Some expats make informal private arrangements with a trusted caregiver.  For example, one couple I met both have chronic conditions, but are able to be alone in their home at night.  They have a full-time caregiver who for ~$800 USD per month does all of the cooking, cleaning, laundry, shopping, errands and personal care.   (This is not a baseline price, merely an example of one such arrangement.)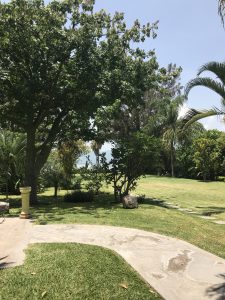 Let's Wrap This Up
Just as NOB (north of the border) you will need to conduct your own due diligence before making Lakeside care decisions.  Here is a list of activities/questions to get you started:
visit the property(ies) you are interested in several times including during an activity
eat a meal(s) and interact with the residents
drop in unannounced
ask for and check references provided
ask about safety and security including how the property is secured.  Is there a guard? security system? who is on call at night? is there a registered nurse on site?
How many people on staff and what are their qualifications?
How are residents' medication needs handled?  Who dispenses medications?
What accommodations are made for special dietary needs?
Is bathing assistance provided?
Under what type of circumstances is a resident asked to leave the community?
What kind of move out notice is required?
How does the property feel you to you?  Warm and welcoming?
What events/outings/extra services are provided?
Is the facility registered with COPRISJAL?  When was the last inspection?
Who are the owners and what is their background?
Is the venture financially stable?
The answers to these questions can help you determine what care solution fits your individual situation best.  Our seminars also feature an expert presentation on assisted living by Wendy Carrel of Wellness Shepherd.  If you need help choosing care options, Wendy is a great resource who works with all of the assisted living centers in the area.
By Bette Brazel, Focus on Mexico Content Manager
Focus On Mexico offers 6-Day Educational Programs to Ajijic and Lake Chapala, Mexico. Join us and learn why thousands of Americans and Canadians chose to retire in Lake Chapala.
Our programs offer the perfect balance; a wonderful vacation and an insightful, educational experience. Our expert speakers cover all topics: Health Care, Real Estate, Legal System, Safety, Immigration, Bringing Pets, Cost of Living, US Taxes for Americans, Non-Residency for Canadians, Living on the Lakeside, Investing in Mexico, Mexican Economy and much more…