Mexican food based on Aztecs and Mayan cooking traditions combined with culinary trends introduced by Spanish colonists, is known for its intense and varied flavors, colorful decoration, and variety of spices and vegetables (green peppers, broccoli, cauliflower, radishes and many more). Mexican Cuisine has become recognized among the world's greatest cuisines.
Corn has been Mexico's traditional staple grain diet for some 4,000 years, but today, rice is equally important.  Beans are another staple of the diet and they provide the necessary protein. Chilies (of so many different varieties and degrees of heat) are abundant and can add that zing to any dish to make it special.
Refried beans, as well as rice and tortillas, are usually served in every Mexican meal, as well as guacamole and a delicious salsa made with different kinds of chili peppers and red or green tomatoes, onions, garlic and cilantro.
Quesadillas are a flour or corn tortilla with some varieties of Mexican cheese and/or some cooked beef, chicken, pork, or vegetables like mushrooms, potatoes, or chile poblano just to give an example.
French baked goods influenced Mexican cuisine with sweet bread and bolillo (a type of salty bread traditionally made in Mexico). There is also a minor Asian influence in Mexican cuisine.
The variety of dishes in Mexico depends on the region of the country, the different climates, the fauna, flora and the ethnic customs, as follows.  The good thing is that we have all these dishes around Lakeside!
North of Mexico is known for its beef, goat and meat dishes (Arrachera cut),
Central Mexico is know for it's barbacoa, pozole, menudo and carnitas,
Southeastern Mexico is known for its spicy vegetable and chicken-based dishes.
The states that border the Pacific Ocean or the Gulf of Mexico are know for their seafood.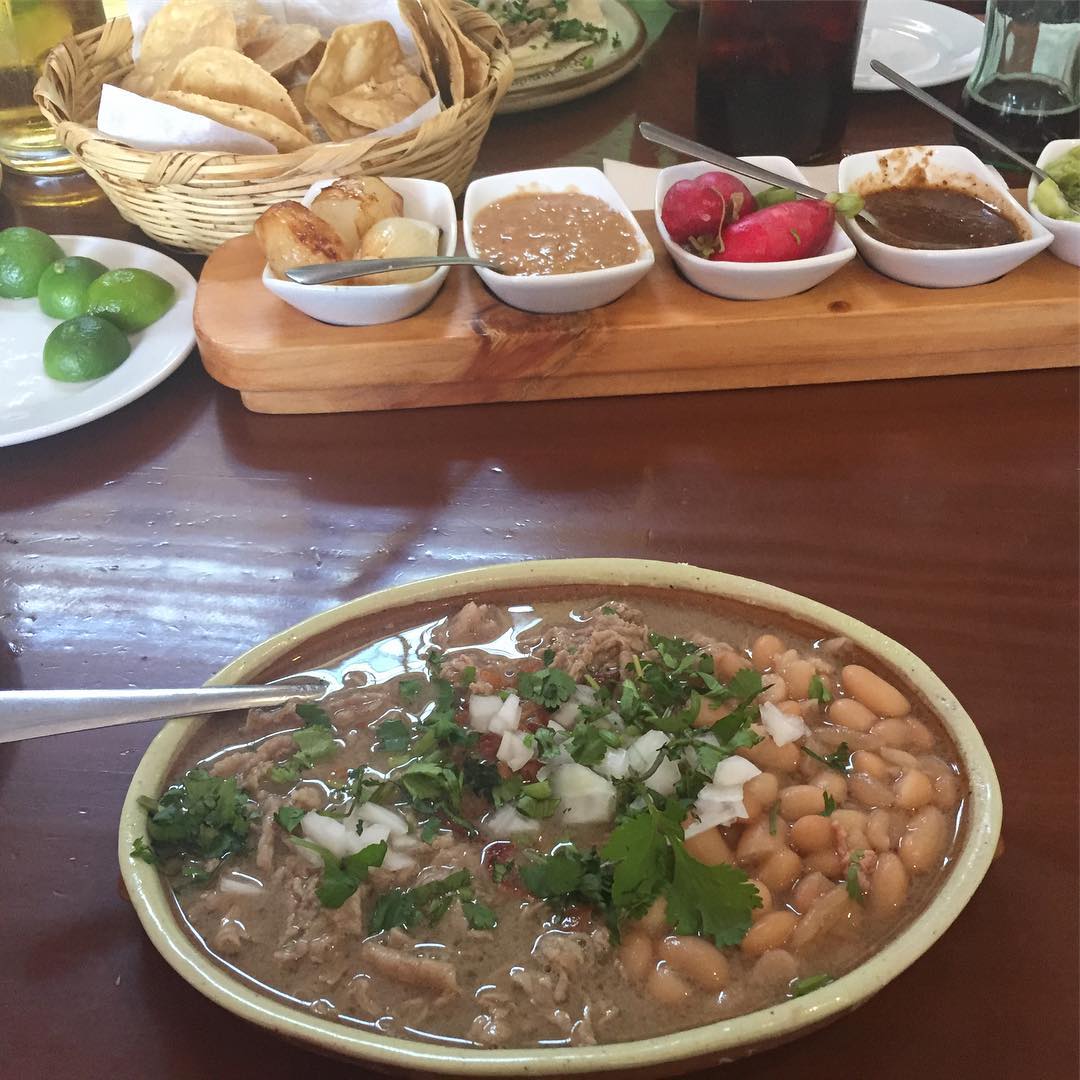 As you notice, there is difference between the truly authentic Mexican food and "Tex Mex" (Texan-Mexican) cuisine.
Mexicans are gifted cooks and their ability to use herbs, spices and chilies allow them to create flavorful food which is prepared in a host of interesting and different ways.  Mexican cuisine is further enhanced by the abundant array of fruits and vegetables which really do seem to taste better in Mexico than anywhere else; perhaps it is because of so much sunshine and they are vine-ripened. I remember when we first moved here, the tomatoes tasted like the tomatoes when I was a child. (I guess that is why the Mexican salsa is so incredibly tasty here, but try and duplicate it back home and something seems to be lost in the translation.) The contribution of this semi-tropical climate provides for a variety of fresh fruits and vegetables year-round; and at ridiculously low prices.
Opuntia (Opuntia lasiacanta)
– Mystic Fruit of Mexico. Fruit of the "sacred tree", these have been credited from pre-Columbian day to modern Mexico with being used as a beverage, medicine, source of dye, and as an object of magical-religious practices. This fruit gave life and strength.
Source: http://www.differentworld.com
The Basics

 
You'll encounter all of these in your first few days in Mexico:
Tortillas:  The staple food of generations of Mexicans, tortillas can be made of flour (more common in the north) or maize (the traditional method and still the most common in the south). Often served alongside a meal as bread would be, tortillas are also used in many typical dishes – rolled and baked for enchiladas, fried for tacos or grilled for quesadillas.
Frijoles:  (beans) A good source of protein, beans of different varieties are most commonly boiled with onion, garlic and others and then fried. They can be a main ingredient in a meal or served almost as a garnish.
Chilies: In general, the bigger the chili, the milder the flavor. Large Poblano chilies are stuffed and served as the main course, the small habanero is ferociously hot. To ask if a dish is spicy, say "es picante?" – though hotel menus will often specify dishes that might offend tourist palates.
Guacamole: Avocado mashed with onions, chilies and cilantro (coriander). Served as a dip or as a garnish.
Salsa: A salsa is actually just a sauce, although it is most commonly associated with the red or green mix of tomatoes, onion, chili and cilantro (coriander) served on your table as a relish or a dip. Beware of 'salsa habanero' in innocuous bottles like small jars of ketchup, and always try just a little salsa first as a precaution, cause it can be really hot.
Tequila: This infamous spirit is most commonly served to tourists in the form of a margarita – mixed with lime juice in salt-rimmed glasses. It is actually derived from the maguey plant – a spiky bush often seen growing in fields. Mezcal is a cruder form of Tequila traditionally served with a worm in the bottle – the worm should be eaten when the bottle is finished!
Cerveza: Mexican beers are now known all over the world. Corona, Sol, Pacifico, Indio and Dos Equis are common brands, usually served cold and a very refreshing alternative to iced drinks.
Making Tortillas