Now that we've talked about Mexican currency, let's review some banking basics.  Whether you are a visitor, snowbird, or making a permanent move to Mexico, knowing how and where to bank will help free your time for the all the things you really want to do as part of your Mexico vacation or life.
It's Easy!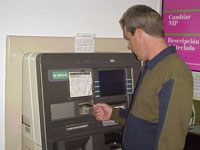 First and most importantly, no matter what you may think or have heard, banking in Mexico is not difficult. It can be as simple as using your U.S. ATM card in an ATM machine for most daily transactions.  The ATM machines charge a variety of fees ranging from ~$1.50 US to ~$4.00 USD per transaction, unless of course your U.S.  bank refunds ATM fees.  Most Mexican ATMs have a  per day withdrawal limit of between the peso equivalent of ~$245 USD to ~$350 USD, and you can only get pesos at the current exchange rate from ATM machines (with the exception of some well known tourist areas where you can sometimes get US dollars). During the high season (Nov.-Mar) and particularly during one of Lakeside's many fiestas when the towns along the lake are packed, the ATM machines frequently run out of money on the weekend, so it's a good idea to stock up on cash during the week.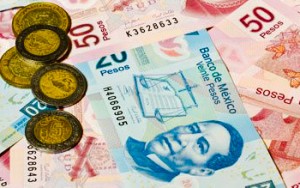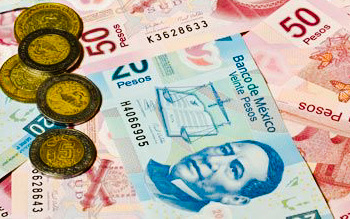 Cash Is Still King in Mexico
Most of the smaller shops, stores, restaurants or service providers Lakeside and throughout Mexico do not accept checks, credit cards or U.S. dollars, so be prepared to pay pesos in cash for most purchases. Major credit cards are accepted in larger department stores, grocery chains and organizations, while cash is the order of the day in the small mom and pop shops known as 'tiendas.'
In Mexico only a few PEMEX Gas Stations take credit cards. There is one gas station in Ajijic that takes credit cards, but if you are driving down or living in Lake Chapala and want to travel over to the coast or to Mexico City, make sure you have sufficient pesos on hand to pay for the gas and the tolls along the way. There is a universal ATM network spread across the country and rarely will you have to search far to find an ATM to get cash.
If you become ill and are admitted to a hospital, you are expected to pay the bill in cash before you are released.  The private hospitals have a nifty solution for getting the bill paid,  they just keep you hooked up to an IV until the bill is paid!  This can become a real problem if you're single and don't want to share your pin number with someone who has to run around to various ATM machines until enough cash is gathered.  So if you are living in Mexico, it's a good idea to keep at least 10,000 pesos in a secure location in your home in case of a medical emergency.  I keep a portion in cash and a portion in a Mexican bank account just for this purpose.
So How Do I Open a Mexican Bank Account?
There are numerous banks both international and national and you will need to investigate to see which bank(s) best fit your individual needs.  Keep in mind that it's not necessarily true that a foreign bank will offer better service than a Mexican bank.  All offer  the same basic services including:
personal checking accounts
savings accounts
investment accounts
wire transfer services
bill-paying services
foreign currency exchange
online banking –  (it's worth the time invested up front to understand your bank's online services, which can save you standing in line for a transaction that can be done from the comfort of your home.)
Many bank employees and tellers speak English so it's no problem to set up and service an account with any of the local banks.  Each bank offers ATM services and accepts 'Cirrus,' 'Plus' and 'Red' systems as well as Visa and MasterCard.
To open a Mexican bank account, you will need to provide:
A Residente Temporal or Residente Permanente Visa
Passport
Proof of residency (a bill with your address on it – if you're renting, the bill will be in the homeowners' name, the banks are accustomed to this and just need proof that you actually live in the area)
Two references who can vouch for your financial stability (these can be anyone you know locally, i.e. your landlord, attorney, etc.)
For the most part, Lakeside banks offer only peso accounts. There are situations where you can open U.S. Dollar accounts, and you will learn what circumstances you can do this at the FOCUS program. It is also possible to open an "offshore" account through the offshore branches or affiliates of a Mexican bank (usually for high net-worth people).
Can I Open a Bank Account While I'm At the FOCUS program?
The short answer is no, due to the requirements listed above.  Although we've heard of exceptions (because there are always exceptions in Mexico), you generally must be living in Mexico with proof of a Mexican address and have either a temporary or permanent resident visa in order to open a local bank account.  Most banks will not open an account for a visitor on a tourist visa.  Exceptions may temporarily accept your US or Canadian proof of residency (bring a utility bill with your address on it) – but they will want a Mexican address to complete the account opening (even if it isn't your own address!).  As outlined above, the best short-term solution is to use your U.S. ATM card while visiting and be sure to notify your bank that you will be out of the country to ensure you don't have a cash flow problem while abroad. It's also a good idea to have two U.S. accounts that you can draw from so that if there is a problem with one card, you can use the other.
TIP: when an ATM offers a currency exchange, we suggest you do not select this option. Your US/Canadian bank will generally give you a better exchange rate into pesos then the ATM rate.
Let's Wrap This Up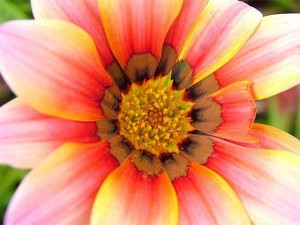 Once you overcome the initial hurdles of getting your bank account set up, you'll find that banking in Mexico is really not much different from banking at home.
By Bette Brazel, Focus on Mexico Content Manager
COVID UPDATE:  Our live 6-Day Educational Programs are back! The ultimate "due-diligence" for those serious about moving to Lakeside. Please click on this link  for the next dates;   
[Our new, highly rated "Move To Mexico Online Programs" – will continue for those who can't make it to Lakeside at this time. The Online Programs will provide you with the essential info and perspective on everything to do with a move to Mexico. Interested in finding out more about our Online Program? Click here.]
Our programs offer the perfect balance; a wonderful vacation and an insightful, educational experience. Expert presentations cover all topics: Health Care, Real Estate, Legal System, Safety, Immigration, Assisted Living/Care Options, Bringing Pets, Cost of Living, US Taxes for Americans, Non-Residency for Canadians, Living on the Lakeside, Investing in Mexico, Mexican Economy and much more…