or…People come to Lakeside to die and forget because they are so busy living!
Both sayings are true as most expats who move Lakeside enjoy full lives and make significant contributions to the community.  But the day comes for all of us when it's time to move on to the next stage of our journey.  One of the best things about Mexico is the healthy attitude towards death and dying.  People mourn for their loved ones like everywhere in the world, but there is a more general acceptance of death as part of the process.
How to Prepare for Death As An Expat in Mexico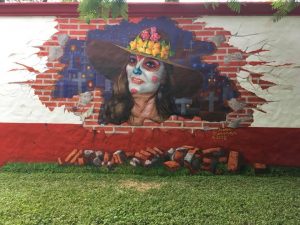 Many expats moving to Lakeside are older and the truth is that no matter your age, and especially in a foreign country, you need to make your arrangements if you want your wishes to be carried out.  As soon as you arrive in Mexico, get settled in a home, have your temporary or permanent resident visa, and a primary care doctor, the next thing on your list should be to take care of your death arrangements.
Wendy Jane Carrel is one of our Focus on Mexico expert speakers on assisted living and Lakeside care options.  Her in-depth article, "Why Creating An End of Life Plan for Expats in Mexico is a Good Idea" will help you to understand what you need to do to prepare for your death in Mexico and how to do it.
Three Easy Steps to Your Death Plan
Decide who you will designate locally to make medical decisions if you are incapacitated, and make a Mexican living will with a local notary granting that person the right to make said decisions.  Both you and the individual you are naming need to appear at the notary with your original passport and temporary or permanent visa.  Cost at this writing is ~$40 USD
Decide whether you want to be buried or cremated.  Most expats choose to be cremated because space in local cemeteries is at a premium and loved ones may want to preserve your ashes.
Register with a local funeral home.  You can either pay only to register your name, address, etc. with the funeral home for about $25 USD (so that they know who you are when they're contacted) or you can pay all of your funeral/cremation costs in advance for ~$500 USD at the time of this writing.  Cremation services provided include:

Transportation of body from home or hospital to funeral home
cremation permit from the government of Mexico
notification to the U.S. consulate
original death certificate
transportation of body to crematorium
original certificate of cremation
A Matter of Life and Death
The End of Life Plan article referenced above spells out in detail why it is so important to make proper death preparations in Mexico,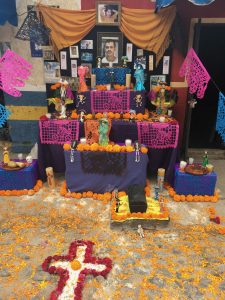 and it's so much easier to do it now when you're healthy and not trying to find answers under duress.  Some people say, "I don't have family and I don't care what happens after I die," which is understandable, but especially if that is the case, you will want to be sure that your wishes are carried out under Mexican law.  As Wendy points out, if you have no family and make no provisions for your death, your body could be held in the morgue indefinitely and then buried in a paupers' grave or worse.  Nor can you be cremated in Mexico without your express written and notarized permission, which of course can't happen after the fact!
Let's Wrap This Up
Death is part of life so come on down and enjoy it all!  The Day of the Dead is a nostalgic, sweet and fun holiday all at the same time with a familiar attitude toward death that makes it seem not nearly so foreboding.  Check out Coco for more on the Mexican attitude towards death and join us for one of our 2019 intensive learning seminars.  Come to Lakeside to live!
Focus On Mexico offers 6-Day Educational Programs to Ajijic and Lake Chapala, Mexico. Join us and learn why thousands of Americans and Canadians chose to retire in Lake Chapala.
Our programs offer the perfect balance; a wonderful vacation and an insightful, educational experience. Our expert speakers cover all topics: Health Care, Real Estate, Legal System, Safety, Immigration, Assisted Living/Care Options, Bringing Pets, Cost of Living, US Taxes for Americans, Non-Residency for Canadians, Living on the Lakeside, Investing in Mexico, Mexican Economy and much more…