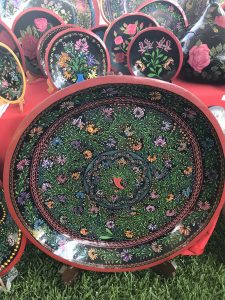 The Feria de los Maestros (artisan fair) has been held Lakeside every year on the second week of November for the past 18 years.  This is a unique fair which brings the best artisans from every region of Mexico.  All sales proceeds go directly to the artisans and there is no charge for booth or commission fees.  Transportation is provided and they are hosted by local expat families.  Many friendships are developed through the home stays.
Participants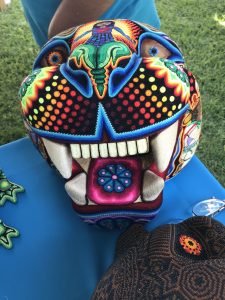 Planning for the Feria takes most of the year including choosing the artisans through recommendations from local coordinators in each state in Mexico.  There are ~85 booths and each year as many as 50% of the artisans are new to the Feria, giving many of the finest artisans in Mexico the opportunity to participate and create a bigger market for their goods.  Visitors to the Feria come from the local area, other parts of Mexico and from around the world.
Highlights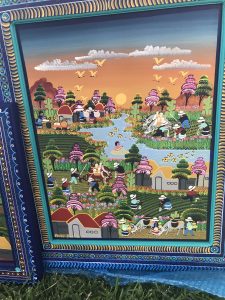 One of the highlights of the Feria are the daily lectures/demonstrations/films showing the history, tradition and effort that goes into making a specific piece of art, helping visitors gain a true appreciation for the quality of the work for sale.  In most cases the works displayed are the primary source of family income now competing against industrialization and cheap copies often produced outside of Mexico.  The art displayed at the Feria is guaranteed to be original art produced in Mexico by artisans who are carrying on a tradition that has been passed down for generations.
Products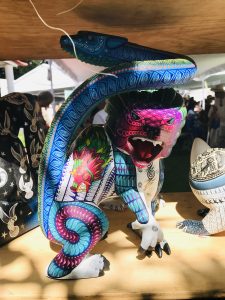 Whether you're looking for alebrijes (fantasy creatures as seen in the movie Coco), bags, ceramics, baskets, pottery, leather, guitars, huichol art, jewelry, toys, dolls, lacquer, furniture, wood figurines, masks, metal work, paper or parchment art, stone carvings, paintings, rugs, textiles, custom made leather shoes and more, you're sure to find the finest quality specimens at the Feria de los Maestros.
Let's Wrap This Up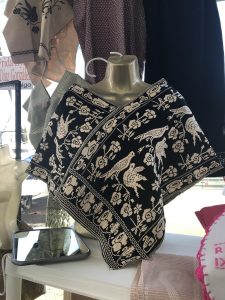 If you didn't make it this year, plan ahead to join us next year for our October 25-30 FOCUS learning seminar and stay on for the Day of the Dead festivities on November 2 followed by the Feria de Los Maestros on November 6-8, 2020.  Or come to any of our 2020 programs because it's always a good time to visit Lakeside!
By Bette Brazel, Focus on Mexico Content Manager
Focus On Mexico offers 6-Day Educational Programs to Ajijic and Lake Chapala, Mexico. Join us and learn why thousands of Americans and Canadians chose to retire in Lake Chapala.
Our programs offer the perfect balance; a wonderful vacation and an insightful, educational experience. Our expert speakers cover all topics: Health Care, Real Estate, Legal System, Safety, Immigration, Assisted Living/Care Options, Bringing Pets, Cost of Living, US Taxes for Americans, Non-Residency for Canadians, Living on the Lakeside, Investing in Mexico, Mexican Economy and much more…