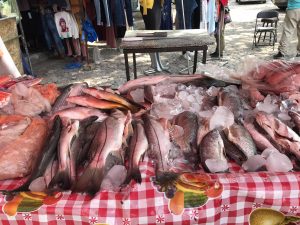 One of the many benefits of Lakeside living are the numerous markets along the north shore. Whether you're looking for fresh vegetables and fruit, chicken, fish, seafood, to fresh cinnamon rolls, tacos, pizza or quality organic products or clothing, jewelry, and home decor and more, you will find them at one of the area's many markets several days of the week.
Monday
On Monday the large open air market in Chapala features thousands of items at some of the most economical prices in the area.  On Monday you will also find a market featuring quality prepared foods at the Sunrise Restaurant in Riberas between Chapala and Ajijic.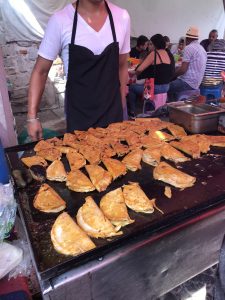 Tuesday
The Tuesday market in West Ajijic features quality produce, prepared food items, supplements, baked goods, chocolates and more.  This market is a favorite of many expats because of the generally high quality and the prepared food that you can take home and reheat when you don't feel like cooking.
Wednesday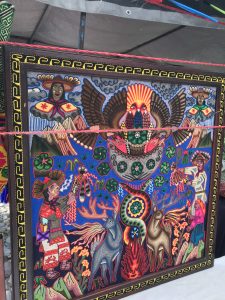 The Wednesday 'tianguis' or open air market in Ajijic features a large variety of food, housewares, clothing, art, jewelry, etc.  This market is a favorite of everyone in the community and many do the bulk of their weekly shopping here.  You could easily shop for a family of two for a week for between $20-$50 USD depending on your tastes and appetite.  Our FOCUS seminars include a tour of this market followed by lunch at a nearby restaurant.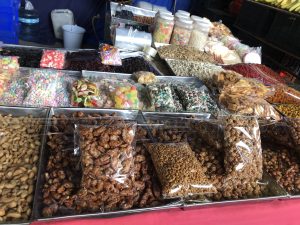 In addition, A long-time local resident chef, Abuelinda,  offers a tour of the Chapala Monday market and a tour of the Wednesday tianguis where she explains items that might be unfamiliar to those of us from north of the border followed by a cooking class/lunch.
Other Food Shopping Options
If you can't find what you're looking for at any of the markets, Pancho's Deli in Riberas is something akin to a Trader Joe's with many imported items and SuperLake in San Antonio also features many U.S. and Canadian specialty items.
Let's Wrap This Up
Try Lakeside for yourself at one of our fast track learning seminars and enjoy the abundance of fresh fruit and vegetables that is such a big part of the quality of life enjoyed by all here.
By Bette Brazel, Focus on Mexico Content Manager
Focus On Mexico offers 6-Day Educational Programs to Ajijic and Lake Chapala, Mexico. Join us and learn why thousands of Americans and Canadians chose to retire in Lake Chapala.
Our programs offer the perfect balance; a wonderful vacation and an insightful, educational experience. Our expert speakers cover all topics: Health Care, Real Estate, Legal System, Safety, Immigration, Assisted Living/Care Options, Bringing Pets, Cost of Living, US Taxes for Americans, Non-Residency for Canadians, Living on the Lakeside, Investing in Mexico, Mexican Economy and much more…