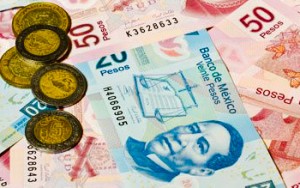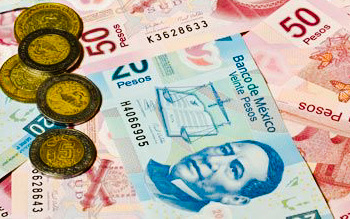 They Spend Like Real Money!
While Mexican money may look like Monopoly money at first glance, it spends just like real money, so it's good idea to get familiar with the Mexican peso before you arrive.
If you're not used to dealing in more than one currency, it can feel daunting at first to convert from your home currency to pesos quickly and confidently. It's common to see flustered people thrust a handful of cash and coins at cashiers in Mexico so that vendors could pick out the appropriate amount from their hands. That's NOT the recommended way of doing things, even though there are many honest people in Mexico, just like anywhere, it is far better for you to be savvy. With just a few minutes of practice you'll be spending dinero (or saving it) like a seasoned expat.
The official currency of Mexico is the Mexican Peso. Like dollars, each peso represented by the $ sign is worth 100 centavos, or cents. You may also see Mexican pesos expressed as MN (Monedas Nacional), as in 100MN. Cents are represented by the symbol "¢". Mexican peso coins are round and the 1, 2 and 5 coins have a golden/bronze center circle with a picture of the Mexican Coat of Arms (Eagle) in the middle with the outside surrounding being of silver color. ( Canadians will see that the larger coins look somewhat like the Canadian loonie).
Peso Coins
Mexican coins can be found in denominations of 50 centavos and 1, 2 5, 10 and 20 peso pieces.  The size of the peso coin reflects its hierarchy of value.
Exchange Rates
Americans and Canadians have more spending power than ever in Mexico. As of this publication (November 2018) The exchange rate for an American is about $20 MXN= $1 USD. For Canadians, the exchange rate is about $15MXN =$1 CAD.  As a "free floating" currency on the Foreign Exchange Markets, the value of the Mexican Peso fluctuates daily. So you will very quickly become familiar with currency exchange rates. XE has a website as well as an app you can download on your smartphone to help make this easier when you need to make the conversion quickly.
Peso Bills
Mexican peso bills are printed in denominations of 20, 50, 100, 200, 500 and 1,000 notes, although 1,000 notes are rarely found in circulation and are difficult to break.
New Peso Bills
The Bank of Mexico (Banxico) has stated that the current generation of bills is gradually being replaced beginning with the new 500 peso bill issued in August 2018.  According to Banxico, this new bill is "the first in a new family of bills that pay homage to our historical identity and natural heritage."  The 500 peso bill was chosen as the first in the new series because it is the most widely counterfeited.  The new version with Benito Juárez (Mexico's only true indigenous president and a contemporary of Abraham Lincoln) on one side, and the gray whale and coastal ecosystems on the other, features fluorescent ink, a dynamic thread, embossing perceptible by touch, a watermark, and a new multicolor denomination.  At a quick glance the new bill looks deceptively familiar to the current 20 peso bill, although it's larger in size.  The old 500 peso bill with the image of Diego Rivera and Frida Kahlo will be gradually phased out.
In 2019 Banixco will issue a new 200 peso bill featuring Miguel Hidalgo and José María Morelos on one side and the El Pinacate desert landscapes on the other side.  In addition, a new 1,000 peso bill is scheduled to be released in 2020.
Mexican currency is made of plastic and can tear easily so be careful not to wash it or crease it. This new plastic composite makes it difficult for would-be counterfeiters to replicate. In the past, it was quite common for very industrious criminals to pass off fake bills as authentic to gullible travelers who would be caught unawares with worthless bills.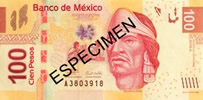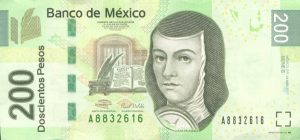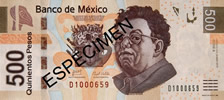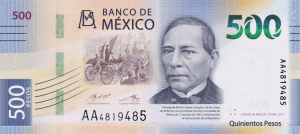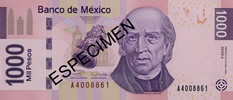 Let's Wrap This Up
500 or 1,000 peso notes are easier changed in restaurants, pharmacies or larger establishments.  The small tiendas, businesses, taxi drivers, etc. prefer small bills and change.  When you give them big bills, it takes all their cash (and maybe some of the next store's) to give you change.  Pesos are used almost universally in Mexico, except in some real estate transactions and/or certain major cities or coastal tourist areas where you may see some prices in U.S. dollars.  While larger establishments may accept your credit/debit card, Mexico is still a largely cash society so be sure to carry sufficient pesos when traveling to smaller towns off the tourist trail.
With a little time and practice you'll be comfortable handling and managing your budget in pesos.
Focus On Mexico offers 6-Day Educational Programs to Ajijic and Lake Chapala, Mexico. Join us and learn why thousands of Americans and Canadians chose to retire in Lake Chapala.
Our programs offer the perfect balance; a wonderful vacation and an insightful, educational experience. Our expert speakers cover all topics: Health Care, Real Estate, Legal System, Safety, Immigration, Assisted Living/Care Options, Bringing Pets, Cost of Living, US Taxes for Americans, Non-Residency for Canadians, Living on the Lakeside, Investing in Mexico, Mexican Economy and much more…