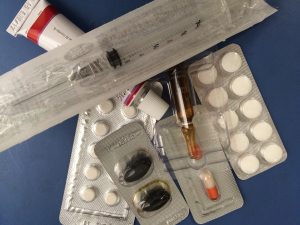 There are likely more farmacias (pharmacies) per head in Mexico than many other countries. Drugs are all pre-packaged usually in little boxes as opposed to plastic pill bottles, and either made locally or imported. Cost wise, local drugs are similar or less expensive than what you are used to, with imported drugs being a little more expensive.  Depending on the drug you need, the generic farmacias may have the best prices.
One of the biggest benefits of the INAPAM card that provides discounts to enrolled seniors over 60 of any nationality (as long as you are a temporary or permanent resident) are the significant drug discounts.  During a recent illness I needed a drug with a price of 950 pesos (~$US48), but with my INAPAM discount, the cost was 253 pesos (~$US13).
Most Medications are Available
Most drugs are available though some may have a different name or there will be an alternative drug available.  If you come on a FOCUS seminar, bring a list of your medications and our experts can help you determine a baseline cost and general availabilty of those medications locally.
Some drugs are controlled and need a prescription each time (e.g. for mind-altering drugs – sleeping pills or relaxing pills like Valium). For most others, you need a prescription the first time and after that the pharmacy will continue to give you a refill over the counter without a renewed prescription. Many other prescription drugs back home are sold over the counter here.
If you have highly specialized drug needs, you should bring enough for your first visit and make an appointment with a local doctor to discuss availability or an alternative medication.
COVID UPDATE: During the uncertainties created by the pandemic, we have suspended our live 6-Day Educational Programs and will be back in late 2021 OR 2022 depending on how conditions evolve. Our new "Move To Mexico Online Program" – along with live, one-on-one support at Lakeside – is the best approach to ensure safety of you and our staff, while providing you with the experience and expertise of the Focus program. The Online Program will provide you with the essential info and perspective from over 20 presentations on everything to do with a move to Mexico. Interested in finding out more about our Online Program? Click here.