This weekend was the Globo festival, an annual Ajijic tradition since 1947.  This event unofficially kicks off the next seven months of fiestas and the run-up to 'high season', which is basically November 1-April 1.  Here are some cultural tips from local residents, long-term expats, and my own 20+ years of life in Latin America to help you get the most out of your Lakeside visit or move.
DO
"Enjoy the community and the traditions.  Get to know the background and history of the community, the Lake Chapala Society, the children's art program, and the art galleries, which are an echo of the early children's art program. Enjoy the life of Ajijic which has been a bi-cultural community ever since WWII.  Ajijic is for everybody." – Jesus Lopez Vega, renowned Ajijic artist and muralist.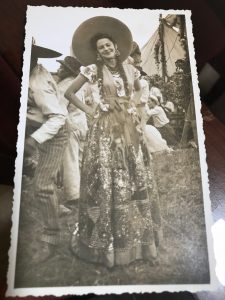 "Learn and liberally use the most important words in the Spanish language" – Neill James, early Lakeside expat and explorer, founder of the children's art program,  from "Dust On My Heart":
Con permiso = with your permission or excuse me
Por favor = please
Gracias = thank you
Buenos dias – good morning
Buenas tardes – good afternoon
Buenas noches – good night
Hola – informal hello
Adios = can be both hello and goodbye
Buen provecho = have a nice meal
While it may seem obvious, all of the words listed above are much more commonly used here than NOB (north of the border).  For example when passing someone on the street, you will be appreciated by the locals if you take the time to say 'hola' or 'buenos dias/tardes/noches' depending on the time of day.  If you bump into someone on the narrow streets, you say "con permiso."  When ordering a drink or meal, it's appropriate to say 'por favor' and 'gracias', and to greet the waiter, engage in some small talk, and inquire about his or her family if you know them.  When leaving a restaurant and passing a table of people eating, it's appropriate to say "buen provecho".
"Spend more time with your eyes open and your mouth shut" – Victoria Ryan, longterm resident of Patzcuaro and B&B owner.  This is self-explanatory but it's surprising how some visitors and newly arrived expats tend to have strong opinions about the area before they have a real working knowledge of the local culture.
"The most interesting way to see Mexico is with an open mind and flexible plans." – Neill James, Dust on My Heart.  Venture out beyond the high expat population areas to get a real sense of life in Mexico.
Moderate your voice volume in public.  It may seem contradictory, but while Mexicans are known for loud boisterous parties, in 1×1 conversations they are generally quieter than northerners.  I've caught myself speaking too loud many times because it just seems to be a habit we sometimes bring with us.
DON'T
Be alarmed when a Mexican says, "Meet me at the 16th of September and 5th of February.  I'll be coming from the 20th of November.  He is not really zany.  These are street names that represent important dates in Mexican history." – Neill James, Dust on My Heart
Scream in public for any reason other than a life-threatening emergency.  Again, this may seem obvious but screaming expats demanding their rights in English are not appreciated.  Most Mexicans will not talk back (think 400 years of Spanish oppression) but they will resent you and this type of behavior does not improve the expat population reputation among the locals.
Demand your rights, especially when you think you're right.  Use all the polite phrases above particularly when you are angry or upset.  If you need help, ask a reputable bilingual or Mexican resident, or consult a local attorney in the case of more serious issues.
Let's Wrap This Up
So come on down and enjoy everything Lakeside has to offer, and if you are considering moving to the area, our learning seminars are the perfect opportunity to get in-depth information and to make your own assessment of whether Lakeside is for you.
By Bette Brazel, Focus on Mexico Content Manager
Focus On Mexico offers 6-Day Educational Programs to Ajijic and Lake Chapala, Mexico. Join us and learn why thousands of Americans and Canadians chose to retire in Lake Chapala.
Our programs offer the perfect balance; a wonderful vacation and an insightful, educational experience. Our expert speakers cover all topics: Health Care, Real Estate, Legal System, Safety, Immigration, Assisted Living/Care Options, Bringing Pets, Cost of Living, US Taxes for Americans, Non-Residency for Canadians, Living on the Lakeside, Investing in Mexico, Mexican Economy and much more…