Mexico is full of treasures and lakeside is all around Lake Chapala, which the indigenous used to call the sea of Chapala due to its size.  The north side of the lake that we commonly call Lakeside from east to west consists basically of the towns of Chapala, Ajijic, San Juan Cosala, and Jocotepec.  On the south side of lake you'll find from west to east the towns of San Luis Soyotlan, Tuxcueca, Tizapan, Sahuayo and Petatan (where the pelicans come to winter), Sahuayo and Jilquipan.
I've been curious about the 'other' side of the lake ever since arriving in Ajijic almost two years ago.  A Mexican friend took a group of us over on a one-day trip but unfortunately there was a storm passing through and we didn't see much due to the heavy rain, so a friend and I decided to strike out on our own.  Neither of us drive in Mexico, so we hired a driver for one day and then continued on our own via taxi and bus.  We took along Tony Burton's book, "Western Mexico A Traveler's Treasury", which proved to be an invaluable guide to the area.  Tony says, "What a shame that more people do not drive on the southern shoreline.  This side of the lake, the road keeps close to the water opening up vistas far superior to anything from the northern shore."
Puerto Corona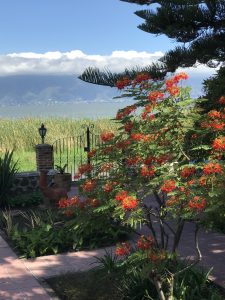 We made a proposed itinerary that started at the home of local expats who live on the south side in a subdivision near San Luis Soyatlan called Puerto Corona.  They have a beautiful lake front home and enjoy hosting parties for both their expat and Mexican friends.  After a delightful visit, we stopped nearby to visit an interesting hotel/event center that is building a lakeside treehouse cabin/suite.
Tuxcueca and Tizapan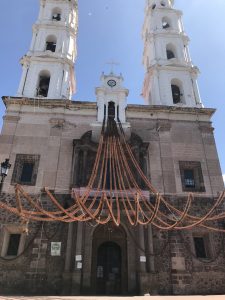 In Tuxcueca we stopped to see the lake level coming right up to the malecon and to watch a funeral procession with mariachis playing a haunting yet beautiful tune.  Then we headed to Tizapan where we found a beautiful colonial church.   Having spent most of the day on the road, we were hungry, so headed straight to Sahuayo bypassing Petatan, where the pelicans are just beginning to arrive.
Sahuayo
Sahuayo is a busy working town known for it's sombreros and leather goods and for its annual Fiesta de Tlahualiles held at the end of July/beginning of August, which features some of the best costumes and headdresses in Mexico.  Here we left our driver and struck out on our own with a local taxi driver giving us a tour of the city.  It just happened to be near the anniversary of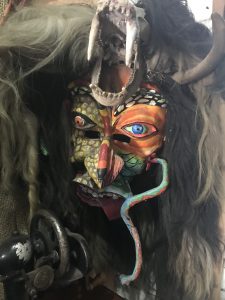 the canonization of their Saint, Joselito, an 11-year boy who was tortured and killed by the government during the Cristero war.  Our taxi driver took us to the shrine to Joselito and was very insistent that Joselito would give us any favor we asked and that we would need to return to Sahuayo to thank him for the gifts we are sure to receive.  The Plaza Grand hotel was immaculately clean with large rooms for ~$35 USD per night, but when we return, we will try the Hotel Margaritas that has an interesting mask collection in the lobby.
Jiquilpan
The next morning we walked the few steps to the taxi stand and got a taxi to Jiquilpan for ~$4.75 USD.  Jiquilpan turned out to be the biggest surprise of the trip.  It's a vibrant college town with two universities, two Mexican presidents were born here, and there is a something akin to a presidential library showcasing the life and works of Lazaro Cardenas, one of Mexico's great presidents.  We were completely unaware that we had arrived on the anniversary of Lazaro Cardenas' death, and were treated to an extensive tour with local dignitaries.  Visiting this museum doesn't require fluent Spanish since it is a largely visual display.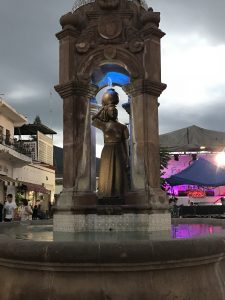 Lazaro Cardenas' small but charming retreat home in the forest above the town has cabins for rent, hiking trails, picnic areas, etc., and a silk weaving workshop on the premises.   Another must see is the public library with its murals by the famous Mexican political muralist, Jose Clemente Orozco.  (If you come on a Focus tour, you will see more of his murals on the Sunday trip to Guadalajara.)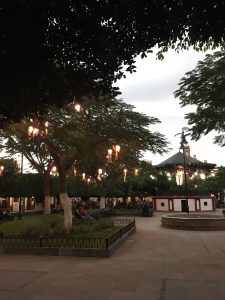 The Jiquilpan plaza is beautiful and sparkling clean with coffee shops and even a funeral parlor on the plaza.  The wakes are held right on the plaza in the midst of all the activity – yet another example of how Mexicans accept both life and death.  We were honored to meet Carlos Flores, a talented professional photographer and enthusiastic promoter of Jiquilpan, who interviewed us because Jiquilpan wants more tourists of all nationalities to come over to the other side of the lake to visit.  The best treasure of Jiquilpan is its people, who are exceedingly friendly and welcoming.  We got glances everywhere we went because there are not many gringo visitors there, but we never got so much as a mean look.  People stopped to talk to us, to point out things we might like to see, and just to say hello.  We stayed one night at the Tarasca Plaza, a clean and adequate hotel on the plaza and another night at the lovely Hotel Palmira which has just remodeled all its bathrooms.  We were delighted to leave Jiquilpan with new friends we will visit next time we return.  (Hotel tip – if a town is not having a big fiesta, it's often a good idea to just show up and decide on your hotel on the spot.  Some don't have much information online so it can work best to make your own judgment in the moment.)
After two exciting days visiting museums and touring the town, we hopped a comfortable bus back to Jocotepec for ~$6.50 USD and then got a taxi home to Ajijic for ~$13 USD, making this a very affordable and easy trip even without a car.  Total cost of the 4-day trip was about $250 USD excluding food, which is generally ~60% of Ajijic prices.
Let's Wrap This Up
Next year, we'll be doing Day of the Dead in Jiquilpan where they have an extensive 5-day program packed with activities.   So come on down and experience all that Lakeside has to offer all the way around the lake.  Who knows you may be one of those who prefer to live on the south side of Lake Chapala!
By Bette Brazel, Focus on Mexico Content Manager
Focus On Mexico offers 6-Day Educational Programs to Ajijic and Lake Chapala, Mexico. Join us and learn why thousands of Americans and Canadians chose to retire in Lake Chapala.
Our programs offer the perfect balance; a wonderful vacation and an insightful, educational experience. Our expert speakers cover all topics: Health Care, Real Estate, Legal System, Safety, Immigration, Assisted Living/Care Options, Bringing Pets, Cost of Living, US Taxes for Americans, Non-Residency for Canadians, Living on the Lakeside, Investing in Mexico, Mexican Economy and much more…