The bad news is that despite the excellent medical care available Lakeside, in case of a sudden life-threatening medical emergency or trauma, transportation from the Lake Chapala area to one of the private hospitals in Guadalajara can take anywhere from 45 minutes to an hour or more depending on traffic, wasting precious time during the 'golden hour' when there is the highest likelihood that prompt medical treatment will prevent death.
The good news is that on March 17, 2018 ground was broken for the new Ribera Medical Center scheduled to open in late 2019, that will offer private services not currently available in the Lake Chapala area.  The Center, which will be modeled after the Puerto Vallarta Medical Center, will offer full hospital services including:
modern emergency room care
surgery and invasive procedures with fully equipped operating theaters
intensive care unit
imaging – CT, MRI, ultrasounds and x-rays
cardiac cauterization lab
hemodialysis, blood bank
Dr. Santiago Hernandez, Focus on Mexico's medical advisor, will serve as the medical director of the facility.  He will play a key leadership role including attracting and maintaining a top-level staff, establishing standards including fully sharable electronic documentation, maintaining a world-class level of care, and compliance with federal, state and local standards.   Click here for a virtual tour of the facility.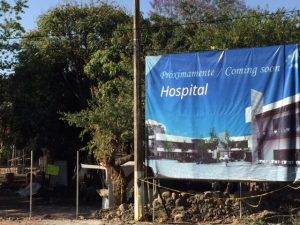 Also slated to open in the Lake Chapala area in late 2018 is the new ICMI (Cardiovascular Institute of Minimal Invasion), dedicated to providing high technology minimally invasive medical care to patients with cardiovascular diseases.  This hospital will provide an excellent local alternative for stroke and cardiac care that is currently often referred to specialists in Guadalajara.
See our in-depth review of local medical care and  personal Lakeside medical experiences from Chuck Bolotin, vice president at Best Places in the World to Retire, for more information on Lakeside medical options.
Sign up for one of our week-long intensive learning seminars to explore your options for life at Lakeside.  
By Bette Brazel, Focus on Mexico Content Manager