By Tere Ruiz, Lake Chapala Mexico
Mexican cuisine has a large variety of delicious dishes. In fact, Mexican cuisine is such an integral part of the country's centuries-old cultural traditions that the government believes it should be included on UNESCO's list of Masterpieces of the Oral and Intangible Heritage of Humanity, and have asked for international recognition for the country's cuisine.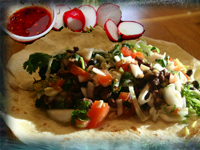 There are several things that have to come together to define what is cooked in different areas or states of Mexico, and how it is cooked. The first thing that defines a Mexican dish is the preferences and recipes of the different precolumbian cultures…since Mexico was a territory originally populated by Mayans, Olmecs, Aztecs, to name a few. However, the cuisine is also defined by the kind of vegetables and fruit that grow in the different climates, as well as the different animals that you find there. All these things have defined the traditional dishes of each area, and of course, the blending with the Spanish cuisine and products that came with the colonization.
It is said that pork was introduced in Mexico by the Spanish, and one of the most emblematic dishes that we have in Mexico is called "carnitas," which originated in the state of Michoacan, but is now prepared in different ways depending on the region of Mexico where you eat them.
Carnitas is the name we give to a delicious type of braised or roasted pork dish, usually made with pork shoulder with bone and skin, pork back fat, rib, chuck, lean meat, and thick skin with meat, You can also include for a better flavor: liver, kidneys and other underutilized parts of the animal.
But don't get nervous, you don't have to eat everything. As I said before, organs can be included to give a better flavor, but, if you are picky about where the meat is coming from, you can ask for your dish "Maciza" (Mah-see-zah), which is the plain lean meat that has almost no fat, such as loin or leg parts.
In general, we can say that carnitas are pork meat fried in pork fat. But what makes them special is the way they are cooked and also what is added to them while cooking and when serving them.
Alumna Nancy Heine says, "I love carnitas in all their savory, deep-fried goodness. I buy them at the tianguis in Ajijic and eat them on the walk home right out of the bag. I also love them simply in tacos and tortas."
As Nancy said, carnitas can be a dish by itself, or as an ingredient in tamales, tacos (made with two tortillas so they don't tear apart) or tortas. Depending on where you eat them, they can be served with chopped cilantro, diced onion, salsa, guacamole, tortillas, refried beans, lime and/or radishes. In Jalisco there is a very traditional dish called "Torta Ahogada" ("Drowned Sandwich") which is a kind of salted roll filled with carnitas (maciza) and covered with lots of salsa. The salsa that is used to "drown" the tortas is tasty but not hot. Still if you love hot salsa, you can always ask for it (they normally keep it in a separate container) and add a couple of drops or more to your torta. I understand that Focus team mate, Bill McConnaughey, always asks for "salsa caliente" when he orders tortas ahogadas in Lake Chapala!
The traditional herbs for making Michoacan carnitas, are bay leaf, thyme and marjoram, which we call "Hierbas de Olor" (Herbs that smell). It is better if you add the herbs inside a cloth bag so you only get the flavor but not the herbs. In Mexico, if you ask for Hierbas de Olor in a store, they will generally give you the three herbs tied up together.
Some people of other regions of Mexico add their own special seasoning to this dish using ingredients like black pepper, garlic, chicken broth, Coke, orange juice, and/or beer. They add some ingredients…specifically Coke, orange juice and beer…because they not only give the carnitas their distinctive golden-brownish color, but they also help tenderize the meat. However, if you follow the traditional recipe from Michoacan, they will still get that color, but a slightly different taste.
Lake Chapala resident, Carol Ann Fougere, shared her favorite spot to eat this Mexican delight in Ajijic, "I love carnitas – always tender, fresh and tasty. I order two tacos and distribute the meat on the four tortillas and top with chopped onion, parsley and a bit of hot sauce. Where do I get the best carnitas? A tiny hole in the wall (but very clean) just opposite Pemex on the Libramiento. There is a yellow sign out front."  Yummy…this article makes me hungry!
Moreover, I had never heard of this, but when I moved to the Lake Chapala Area, I discovered that, in our state of Jalisco, they don't necessarily use pork to make carnitas; they also use lamb, veal and other kinds of meat Therefore, if you are not a fan of pork, you can always try another type of carnitas. I tried the different varieties in a local restaurant on the highway, "Los Tres Potrillos," and now my favorite is veal, because it's juicier than pork.
However, whatever meat you prefer, and whatever recipe you want to prepare, the most important thing of all is that you use one essential ingredient to prepare carnitas…This ingredient is Love!  In fact, you might even want to try it in everything you cook.
I think of this essential ingredient every time I prepare a meal, because of a rather famous movie called "Como Agua para Chocolate" ("Like Water for Chocolate"). In this movie, a young lady (Tita) was forced to prepare the wedding dinner for her older sister, whose fiancé was actually in love with Tita. Tita cried while preparing the molé for the meal, and guess what?  All the guests got sick!  So just in case, please don't forget to add Love to your recipes…it's the best ingredient of all.
This is the first time I have written an article on food, and let me tell you that I really enjoyed writing about the food of my country, and I hope you enjoyed reading it. I recommend that you try carnitas. when you come to the Lake Chapala area.
Also, when you come in a Focus Program, you'll have an opportunity to introduce yourself to the magical world of Mexican Food…buen provecho!
Some recipes to try…for the brave and also for the non-lard lovers among our readers:
Carnitas
Ingredients
4 lbs pork roast (butt or shoulder)
1 medium white onion
1 tablespoon salt
1/2 lb bacon
2 lbs lard
Directions
If the roast has skin or bone, leave them on. Rinse the roast and place in a large pot. Add enough water to barely cover.
Chop the onion into large pieces (about 8) and add to the pot. Add the salt.
Bring the water to a boil, then cover and simmer until the roast is tender, but not quite falling apart, about 2 hours.
Remove the roast and drain, discarding the onion. Remove any skin or bones. Cut or separate into large cubes of about 4 inches.
Put the lard in a heavy pot, melt and raise to a medium-high temperature. Test the temperature by dropping in a slice of bacon. It should boil immediately and take about 2 minutes to cook.
Cook all of the bacon in the lard, remove it and set it aside for another use. (This step is to flavor the lard).
Add the pork cubes a few at a time to the lard. Cook until they are starting to get crispy on the outside. I prefer to remove them when they are roughly halfway between totally crispy and not crispy at all, but that's a matter of personal preference.
Drain the pork, and salt if desired.
Use the carnitas for tacos, burritos or by itself with sides of rice and beans.  recipezaar.com
Slow-Cooked Carnitas
2 pounds boneless country-style pork ribs or pork shoulder (Boston butt), cut into 1 1/2-inch pieces
2 teaspoons salt
2 teaspoons ground black pepper
2 teaspoons dried oregano (preferably Mexican)
1/2 large onion, cut into 4 pieces
1 avocado, halved, pitted, sliced
Fresh cilantro sprigs
Sliced red bell peppers (optional)
Corn tortillas
Roasted Tomatillo Salsa
Preparation:
Toss pork in bowl of slow cooker with salt, black pepper, and dried oregano to coat. Place onion pieces atop pork. Cover slow cooker and cook pork on low setting until meat is very tender and falling apart, about 6 hours.
Using slotted spoon, transfer pork to cutting board. Discard onion pieces. Using fingers, shred pork; transfer carnitas to platter. Place avocado slices, cilantro sprigs, and sliced red bell peppers, if desired, alongside. Wrap corn tortillas in damp kitchen towel; microwave until warm, about 1 minute. Serve carnitas with warm tortillas and tomatillo salsa.
Nutritional Information: Per serving: 516 calories, 22g fat (6g saturated), 136mg cholesterol, 1570mg sodium, 32g carbohydrates, 8g fiber, 47g protein  Epicurious.com

Oven-Cooked Pork Carnitas
Slow cooked pork, simmered for hours in spices, brown sugar, chipotle peppers – and coca-cola? Yummy!
Ingredients:
3 lbs. pork shoulder
2 tbs vegetable oil
1 tbs salt
1 tbs ground pepper
1 tbs paprika
1 tbs cayenne pepper
1 tsp oregano
2 bay leaves
2 cloves chopped garlic
2 large dried chipotle peppers
1/2 can coke
1/2 cup milk
2 tbs brown sugar
Trim the fat and "silverskin" from the roast and cut it into a few manageable pieces. Preheat the oven to about 250 degrees. Heat the vegetable oil in a deep, heavy stock pot (with a lid) for 10 minutes over medium-high heat. While it's getting hot, mix in the spices together on a plate and roll the pork in them. Gently place the pork chunks in the hot oil and sear all sides until browned. Cover, plop it into the oven and cook for an hour. Add the brown sugar, coke, milk, garlic, bay leaves and chipotle. Continue cooking for about another hour. It's done when the pork starts to fall apart when poked with a spoon. Remove the meat from the stockpot with a slotted spoon and shred it into smaller chunks. Remove any solids (peppers) from the pan and heat the remaining juices over medium heat. Fry the meat in this until it begins to crisp, and all the liquids are gone. Serve with warmed corn tortillas, chopped fresh cilantro, wedges of lime, and diced red onion.  alaskacooks.com
The Best Ever Carnitas Recipe (According to Recipe Zaar!)
This is an adopted recipe from Mean Chef. This looks really great to me and can't wait to try it, as I really enjoy Carnitas. Mean Chef word's are: The special ingredient is Pepsi and this is fabulous. You can use carnitas in tortillas, serve like BBQ pork or great at a picinic on rolls.
2½ hours | 30 min prep
SERVES 6 -8
3 lbs pork butt or pork shoulder
1 orange, quartered
1 teaspoon garlic, chopped
1 1/2 teaspoons ground cumin
1 teaspoon black pepper
1 cup Pepsi, plus
more Pepsi, as needed
3/4 cup oil or shortening
Fuego spice mix yields 1 cup use 1T
1/4 cup paprika
2 teaspoons cayenne
2 tablespoons salt
2 teaspoons white pepper
2 tablespoons ground black pepper
2 tablespoons garlic granules
2 tablespoons chili powder
2 tablespoons oregano
Agua Negra Marinade yields 3 1/4 cups use 1 cup
1 cup soy sauce
2 cups pineapple juice
2 tablespoons cumin
2 teaspoons garlic, minced
1/4 cup fresh lime juice
Fuego spice mix: Combine all ingredients, mixing well.
You can store in an airtight container for up to six months.
Agua Negra Marinade: combine all ingredients with a whisk.
You can store in the refrigerator for two days.
Carnitas: Trim away excess fat from pork and cut into 3-inch cubes.
Dust meat with Fuego spice mix and press to adhere well.
Squeeze juice from oranges into an airtight nonreactive container*, add peels, garlic, pepper, Pepsi and Aqua Negra marinade—mix to combine well.
Add seasoned meat and refrigerate overnight.
Remove meat from the marinade (reserve marinade) the next day when you are ready to cook.
Heat oil/shortening in a large heavy skillet over high heat until fat is smoking; add pork and brown completely on all sides- about 15 minutes.
Add reserved marinade and simmer for about 2 hours or until pork is tender and dark brown- add additional Pepsi as needed while cooking to keep meat covered.
Remove meat and chop into 3/4 inch pieces.
recipezaar.com
*Non-reactive things: ceramic, glass, stoneware, food-grade plastic, wood, porcelain. Reactive: copper, zinc, cast iron, brass, aluminum, carbon steel, or galvanized anything.
COVID UPDATE: During the uncertainties created by the pandemic, we have suspended our live 6-Day Educational Programs and will be back in late 2021 OR 2022 depending on how conditions evolve. Our new "Move To Mexico Online Program" – along with live, one-on-one support at Lakeside – is the best approach to ensure safety of you and our staff, while providing you with the experience and expertise of the Focus program. The Online Program will provide you with the essential info and perspective from over 20 presentations on everything to do with a move to Mexico. Interested in finding out more about our Online Program? Click here.