History: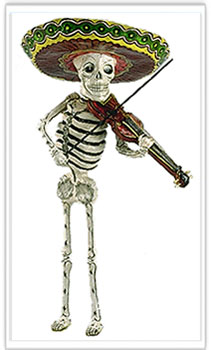 Although the holiday's exact origin is uncertain, it's believed that it began with the Olmecs about 3000 years ago. They saw life as an illusion and believed that in dying, human beings truly awakened and their souls were set free. The Olmecs transmitted their ideas to the Toltecs and Mayans in Central America, who later shared them with the Aztecs, Tlaxcaltec, Chichimec, Tecpanec and other Indians native to Mexico.
At the gravesite:
On November 2 family members gather at the cemetery for gravesite reunions more festive than somber. They first clean up the gravesite. This could entail cutting down weeds that have grown during the rainy season as well as giving tombs a fresh coat of paint after making any needed repairs to the structures. They also dress it up with fresh flowers. They bring food, sometimes bottles of tequila for toasting the departed or even a mariachi band to lead a heartfelt sing-along. And then they all sit down and enjoy a picnic!
They prepare food that their loved ones liked in particular and they tell stories. In a culture without written family trees, parents and grandparents pass stories on to their children. You won't hear long, boring lists of names, facts and dates, but lively, humorous tales about those who came before. Their favorite foods, passions and possessions are discussed, along with their triumphs, their foibles and all sorts of other anecdotal details about their lives—forging a tangible, emotional link between the past and the present. It's a time to honor their family members who are gone, but definitely not forgotten.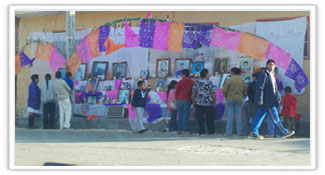 Some family members stay to visit, eat, drink and pray while they keep a vigil during the night. All night, throughout the cemetery there is a grand family reunion of huge extended families, alive and dead, as one by one, through stories, memories and dreams, the dead return. On this night, those who wait to realize the importance of living to be well remembered, working to be well respected and loving to be well missed.
Altars:
We have walked through the village near the end of October, we saw altars springing up in front of almost every home. Entire families join together to decorate tables topped with wooden crates and lace table cloths. There's an abundance of candles, pictures of saints and photos of the deceased. In homes where there have been children who died, we see toys, balloons, piñatas. Even clothing and tiny pairs of shoes.
The act of preparing an altar by placing photographs, flowers, candles, favorite foods and drink of the loved one is a special time…a time to remember, a time to honor and gives the living a chance to heal. A candle is lit for each passed family member, and one extra so that no one is left out. The candles, which represent hope and faith, burn during the night so that there is no darkness.
A photo of the person occupies the principal place of the altar. Personal items of the spirits are placed around the tiers: the child's toys, household saints, tools and utensils used each day, books, serapes, guitars or drums, gourds for carrying water and cigars or cigarettes.
Beverages placed on the memorial can include water, coffee, beer, tequila and atole (a special drink made from corn meal.)  And, actually, almost anything goes now…last year on one of the altars, we saw a Domino's pizza! Someone else came across a Big Gulp as an offering. Anything to please the spirits.
The aromas are used or "consumed" by the spirits, which, like the scents, can't be seen. The foods are eaten (or given away) by the living later after their essence has been consumed, and even the most basic altar includes candles to light the way, water for the dead to drink, salt to season the food and for purification, and bread to represent the food needed for survival.
A washbasin, soap, towel, mirror and comb are also placed nearby so the spirits can clean up when they return.
Popular Symbol of Dia de los Muertos:
In Mexico, the symbol of death is a grinning, fleshless beauty called La Muerte—Lady Death. An elegantly and colorfully clad skeleton wearing a flower-laden hat, created by artist José Guadalupe Posada (1853-1913), she's an amazing metaphor of life embracing death. You can feel this in her name, for she goes by La Catrina—Fancy Lady, La Flaca—Skinny, La Huesuda—Bony and La Pelona—Baldy. There's humor here, not fear.
Flower:
Marigolds are a significant symbol for the Day of the Dead festivity, and are known as the "flower of the dead." Their scent is believed to "attract the souls and draw them back."
Food:
And, like every other Mexican holiday, food plays a big part in the festivities.
The common foods eaten on this holiday include Pan de los Muertos (bread of the dead), a sweet egg bread made in various shapes, from plain rounds to skulls, and decorated. The dough is formed into bone-like shapes to decorate the top of the loaf before baking it. It is said to be good luck to be the one who bites into the plastic toy skeleton hidden by the baker in each loaf.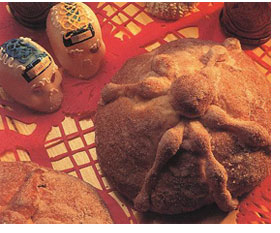 Candy in the shape of skulls, skeletons and coffins (and called Muertos), and many favorite Mexican dishes (tamales, moles, chiles, enchiladas) are consumed as well.
Traditional liquors include tequila, alcoholic mescal and pulque. Lots of Mexican hot chocolate and atole are consumed as well. As mentioned before, a glass of water is also essential, because, after the journey here, the souls are thirsty and pretty tired.
Traditional Recipes for Día de los Muertos Celebrations
PAN DE MUERTOS (AKA DAY OF THE DEAD BREAD and ALL SOULS BREAD)
This is the traditional version of the bread that is made for the November 2 celebration known as the Día de los Muertos (Day of the Dead) in Mexico. You can also mold the bread into different shapes like angels and animals. Makes 2 pieces of bread:
Ingredients
¾ cup lukewarm water
2 tablespoons powdered yeast
4 ½ cups flour
¾ cup plus 2 tablespoons of sugar
1 teaspoons salt
3 eggs
1 cup of vegetable oil
1 tablespoon orange peel
1 teaspoon vanilla
Preparation
In a bowl, mix the water and the yeast, stir making sure the yeast disperses well.
Put the flour in the kitchen aid bowl.
Add the water and yeast mixture
Add the sugar, salt, eggs, oil, orange peel and vanilla
Mix with the flat spatula of a kitchen aid for about 5 minutes. You will obtain a greasy mix. Otherwise mix very thoroughly with hands until you obtain a greasy mix.
Place this mix in a deep bowl and cover with cling film. Leave in a warm place overnight until it doubles in volume
Take the mixture from the bowl and place on a surface, cut in half and take out about 1/3 of each half.
Shape the larger bits into two balls and place on an oiled baking tray.
Take a little dough from the other smaller bits, these can be turned into large ropes that are going to be cut in half and placed on top of the bread in the shape of a cross. The little bit left will go on top of the bread.
Brush with milk and sprinkle some sugar on the bread
Bake in the oven at 160 degrees (fan assisted oven) for 20 minutes, then reduce to 140 degrees (fan assisted oven) for 20 minutes and then reduce to 120 degrees (fan assisted oven) for another 20 minutes
Leave to cool down, it should sound hollow when baked, if not carry on baking for a little longer until thoroughly baked.
Mexican Hot Chocolate:
This is the traditional version of hot chocolate that is drunk for many festive occasions.
Ingredients
2 teaspoons good-quality ground cocoa
1 teaspoon sugar, plus extra to taste
¼ teaspoon ground cinnamon
½ teaspoon ground almonds. You can add more if you want a thicker texture
250 ml milk
Preparation
Make the chocolate mix by putting all the ingredients, except the milk, together in an empty, clean glass jar.
Shake until completely combined.
Heat the milk in a pan and add the chocolate mix.
Bring to the boil and reduce the heat.
Simmer for about 2 minutes.
Atole:
Atole is a traditional cornstarch-based Mexican and Central American hot drink. Chocolate atole is known as champurrado. It is typically accompanied with tamales, and very popular during the Christmas holiday season (Las Posadas) and one of the traditional drinks of the Mexican holiday Day of the Dead.
The drink typically includes masa (corn meal), water, piloncillo, cinnamon, vanilla and optional chocolate or fruit. The mixture is blended and heated before serving. Atole can also be prepared with rice flour in place of masa. There is also a variation using pinole (Toasted and lightly sweetened corn meal).
Ingredients
1/3 cup masa harina blended with 1/4 cup warm water in blender
3 cups water
5 tablespoons brown sugar or piloncillo
1 pinch of salt
1/4 teaspoon cinnamon or 1 cinnamon stick
2 teaspoons vanilla or one one vanilla bean
1/2 cup pureed fruit (optional)
Preparation
Heat all ingredients in a medium saucepan over medium-low heat while stirring. Bring to a simmer and continue to stir frequently for 20-25 minutes until thickened. If used, remove the cinnamon stick and/or vanilla bean.
Pour into mugs or thick glasses. Warm fruit puree in a small saucepan and drizzle on top of Atole. Serves 2-3
Champurrado:
Ingredients
2 cups warm water
2 cups milk
1/4 cup masa harina (or 1/3 cup nixtamal)
1 disk Mexican chocolate, chopped
3 piloncillo* cones, small, (one ounce each) chopped
1 pinch of anise seed, ground (optional)
Preparation
In a large pot, whisk masa harina into the warm water until thoroughly combined. Add milk, chocolate, * piloncillo and anise. Bring to a simmer and whisk with a molinillo (a special tool to whip the drink) until chocolate is melted and sugar is dissolved.

* Piloncillo, Mexican Brown Sugar. Piloncillo is an unrefined sugar from Mexico.