We enjoy subtle Seasons in Lake Chapala
In Lake Chapala we do have subtle seasons but no extremes. Throughout the year the mornings and evenings are cooler, great for tennis, golf or taking the walking trail up the mountains to the Little Chapel or the Old Burial Grounds.
The Lake sits about 5200 feet (1584.96 meters) above sea level so we get virtually no humidity. The triple mountain range surrounding the lake protects the area from prevailing northerly winds creating this excellent micro climate we so enjoy. The effects of the lake and mountains ensure that temperatures are pleasantly warm year 'round, averaging 23.34 Celsius (74 o Fahrenheit).
Climate Data for Lake Chapala, Mexico
Summary – Average monthly temperatures and rainfall (degrees Fahrenheit and Inches):
| | | | | | | | | | | | | |
| --- | --- | --- | --- | --- | --- | --- | --- | --- | --- | --- | --- | --- |
| Month | Jan | Feb | Mar | Apr | May | Jun | Jul | Aug | Sep | Oct | Nov | Dec |
| High Temp. | 75 | 77 | 80 | 84 | 86 | 83 | 79 | 79 | 78 | 79 | 78 | 76 |
| Low Temp. | 46 | 48 | 50 | 54 | 58 | 61 | 60 | 60 | 59 | 55 | 49 | 47 |
| Precipitation | 0.5 | 0.2 | 0.2 | 0.3 | 1.0 | 6.3 | 9.7 | 7.6 | 5.8 | 2.3 | 0.4 | 0.5 |
From Dry Season to Rainy Season – How Things Change!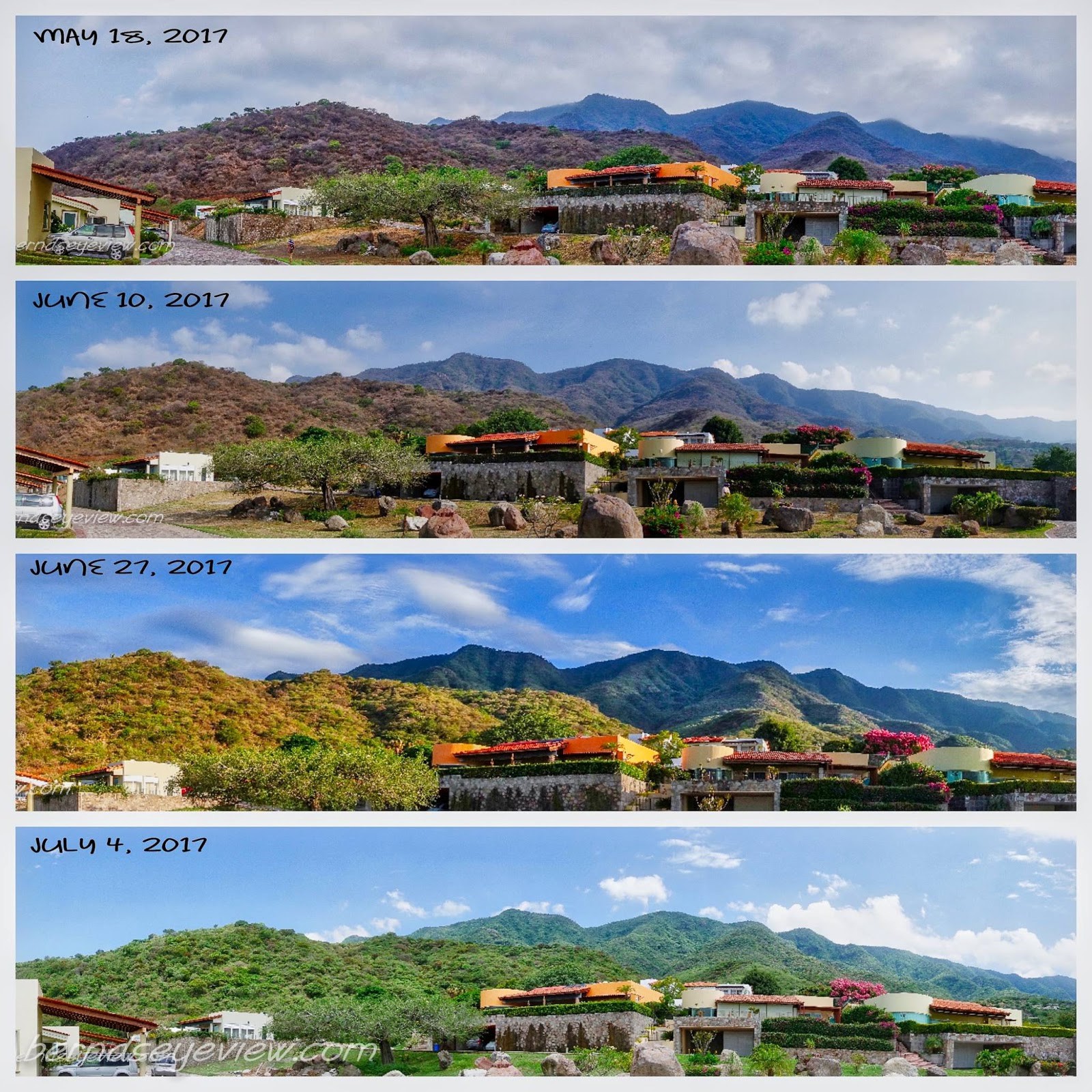 This series of pictures by Lakeside resident and photographer Bernd Peter Sawatzki show how the dry season's browning dryness transforms into the green, lush foliage during the rainy season.
The Dry Season
October to May is pretty much the Dry Season where we experience little or no rain.
Our fall is October and November and is a beautiful time of the year. The rains are mostly over and the mountains are still lush emerald green. Days and evenings are warm and until mid to late November, there is no need for even a sweater in the evening.
December and January are what we call our winter months.  Of course the days are sunny and warm and T-shirts and shorts can be worn most days.  Mornings and evenings are a little cooler and you'll likely need a jacket or sweater.  To give you an idea of how cold it doesn't get, the majority of our restaurants in Lake Chapala are indoor/ outdoor.  On a cool evening they may put on the fire and turn on one or two of those tall restaurant heaters and that seems to do the trick.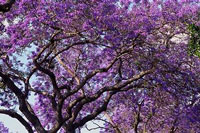 February and March boast ideal weather conditions and a special bonus: the ever beautiful Jacaranda tree which bursts into purple bloom in early February and the blooms are falling off towards the end of March. It is said to be good luck if a purple blossum falls on you while you walk under a tree. Perhaps we appreciate this purple beauty so much because of the limited time it graces our presence each year.
April and May are our hot and dry months with temperatures in the mid to high 80's with nighttime lows just under 60 o. Fortunately it is the sun not the air that is hot. When you step in the shade you can feel at least a ten degree difference, so we are always comfortable, no matter the time of year.
Rainy Season
June to September is the rainy season and once the rains start the temperature can drop ten degrees or more. For many of us, this is our favorite time of the year. By May the mountains are dry and grey and once the rains begin you can practically watch them turn green before your eyes and before long the hills are filled with wild flowers and are lush, lush green.
The rains usually start between the 1st and 15th of June. Our first signal that the rains are imminent is when we hear the "rain birds" calling for the rain, about five to six weeks in advance.

As if the thunder and lightning weren't spectacular enough, wait till you see the magnificent sunsets. The sun shining through the black and white clusters of fluffy clouds is a picture no camera can do justice to.
Fall (October and November) is a sensational time of the year. The rains have stopped, the air is fresh, everything is sparkling clean and the hillsides and gardens are a mixture of emerald green and vibrant colors – all sorts of flowers, plants and flowering trees. Truly a gardener's paradise.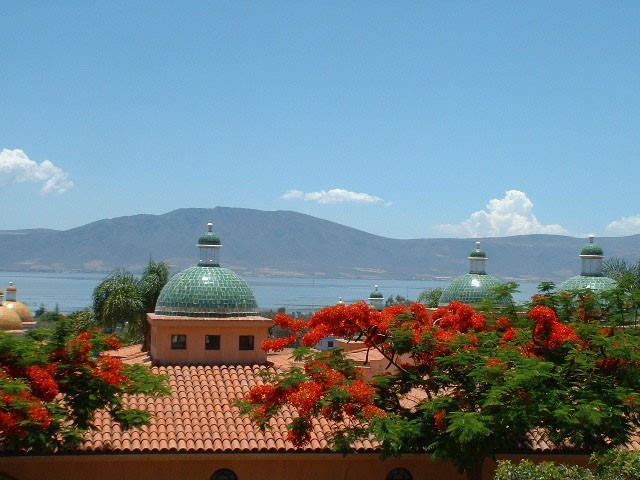 Annual rainfall is around 34 inches with about 32 inches occuring during the four months of rainy season. On occasion, during the eight-month dry season, we can have the odd rain shower, but they are few and far between and don't usually have the same intensity as in the rainy season.
For the first couple of weeks, we experience wind with the rains. Sometimes, the skies over the lake will blacken and rolling thunder will trumpet a torrential downpour – a memorable sight and sound show. It is spectacular. Thunder and lightning show across the lake and over the mountains – better than watching anything on TV. It usually only rains at night and seldom interferes with any planned activity. The following morning is usually warm and sunny.
In these summer evenings (rainy season), you may need a light jacket or sweater, but the days are usually beautiful. The last few years we have been getting an abundance of rain; bringing our lake from the low level of about 30% of its capacity to over 70% so for those of us living here, we say, "Let it rain."
The best way to experience the weather is to come to Lake Chapala for yourself! We invite you to experience the beauty, colors, people, food and everything Lakeside!  While you are here, take in one of our 6-Day Learning Adventures, half-classroom, half-exploration and combine a wonderful vacation with an in-depth understanding of what it takes to move to Lake Chapala!
Mexico uses Celsius (Centigrade) Thermometer
Fahrenheit
Celsius

0

o

equals

18

o

32

o

water freezes

0

o

50

o

cool weather

10

o

68

o

moderate weather

20

o

88

o

hot weather

30

o