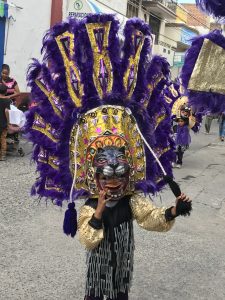 We are fortunate to live on the shores of Lake Chapala, the largest lake in Mexico whose shores include a variety of interesting towns on both sides of the lake. While the Chapala/Ajijic area is the most well-known, there are many expats living along other areas on the north shore where housing prices are generally more reasonable, and there is the fascinating south shore, where we just returned from our second visit to Sahuayo for the annual Festival de los Tlahualiles , one of the best mask festivals in Mexico. This fiesta is part of the town's annual patron saint festival which happens in virtually every town in Mexico sometime during the year. This particular festival is dedicated to St. James and dates back to the 16th century.
The Guidebook
Our guide for touring this area is a now well worn copy of Western Mexico a Traveler's Treasury by a long term former Lakeside resident, Tony Burton. Tony says
"What a shame that more people do not drive along the southern shoreline. This side of the lake the road keeps close to the water opening up vistas far superior to anything from the northern shore. This is the undeveloped, some would say, unspoiled side."
Trip Planning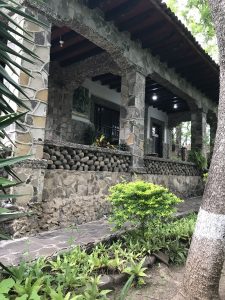 On this visit, we knew where to stay and had a much better idea of how much time we wanted to spend based on a better understanding of what the south side of the lake has to offer. The Hotel Palmira in Jiquilpan, which is friendly, clean and centrally located makes a great home base for visiting the area, and it's only about 10 minutes from the larger nearby town of Sahuayo, but quieter and easier to navigate. We planned a two-day trip this time but at least three full days would have been better to include some important sites in Jiquilpan such as the Lazaro Cardenas presidential library and archeological museum, the Feliciano Bejar museum, and the Casa de Piedra, the summer home of Lazaro Cardenas, all of which are closed on weekends.
Festival de los Tlahualiles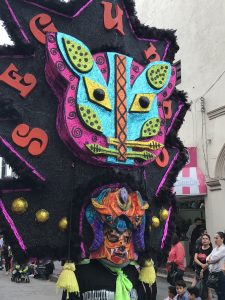 On this trip, however, our focus was the Festival de los Tlahualiles, held this year from July 16 to August 4. We left Ajijic on Friday morning and headed to Sahuayo in a leisurely manner stopping at various spots along the way described in our previous post. We had no idea when the procession was happening so we headed to the Sahuayo plaza where the local police were happy to share details with us. After a short rest from the day's drive at our hotel in Jilquilpan, we grabbed a taxi back to Sahuayo for 90 pesos. On return to the Sahuayo plaza, we met a Mexican-American gentleman from Chicago who spends part of the year in his home town of Sahuayo. He graciously volunteered to escort us around and we had a nice dinner finishing just in time to get a prime street viewing spot of the incredible Tuahualile procession. It is a family-friendly event and every neighborhood participates, working all year on the elaborate papier mache costumes that are truly unique. We were advised beforehand that the best days to go are the last weekend of the festival, but it's important to know that the procession is on Friday night and Sunday afternoon only as Saturday is a rest day. (We understood that the participants have to rest when we learned that the headdresses weigh about 65 lbs.)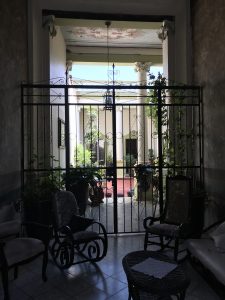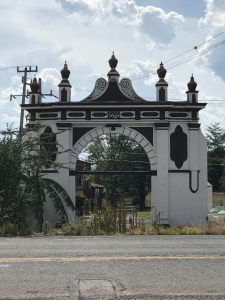 Jiquilpan
We managed to last through the whole hours long procession before happily collapsing in our Jiquilpan hotel. On Saturday, we enjoyed a leisurely morning coffee in the Jiquilpan plaza followed by a visit to the Jiquilpan library with its famous Orozco murals, local churches, points of interest and some traditional homes. In the afternoon we ventured further east of Jiquilpan to visit the town of Emiliano Zapata, which before the Mexican revolution was one of the largest haciendas in western Mexico called Guaracha, well described in our guidebook.
Let's Wrap This Up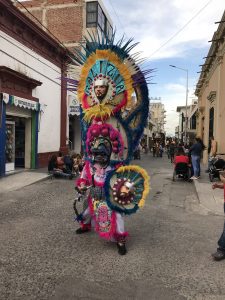 If you are staying any length of time Lakeside, a trip to to the south shore is a treat. There are local one-day tours around the lake and these are good to get impressions and see where you want to spend more time. Then strike out on your own for a leisurely several day trip to enjoy the interesting and colorful south side of Lake Chapala. Different months of the year offer different vistas such as the pelicans feeding in Petatan from October-March.  If you plan on visiting the Festival de los Tuahaliles, it's best to make your hotel reservations several months in advance as the area hotels fill up early.
By Bette Brazel, Focus on Mexico Content Manager
Focus On Mexico offers 6-Day Educational Programs to Ajijic and Lake Chapala, Mexico. Join us and learn why thousands of Americans and Canadians chose to retire in Mexico. Our programs offer the perfect balance; a wonderful vacation and an insightful, educational experience. Our expert speakers cover all topics: Health Care, Real Estate, Legal System, Safety, Immigration, Assisted Living/Care Options, Bringing Pets, Cost of Living, US Taxes for Americans, Non-L for Canadians, Living on the Lakeside, Investing in Mexico, Mexican Economy and much more…