Buying Ajijic and Lake Chapala Real Estate – What you can Expect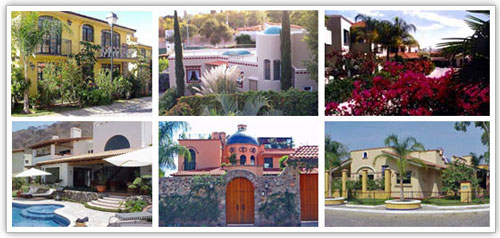 Homes at Lake Chapala are built similarly to commercial construction in the U.S. and Canada, using brick, rebar and concrete. Ceilings tend to be high, floors are tile and walls are thick stucco. Homes often have a Spanish flair with lovely wrought-iron scroll work over the windows that are both decorative and secure.
"You're not in Kansas anymore, Dorothy!"
If you have ever wanted to paint a wall teal, lime or fuchsia, this is the place to go for it! In fact, you'll fit right in.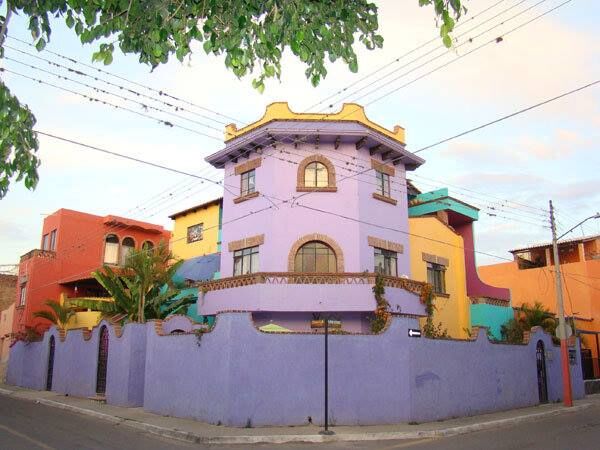 Of course, if you choose to leave the loud colors to the plants and birds until you become more accustomed to it, that's okay, too! I'll never forget the first time I saw an orange and cobalt blue house and thought, "Ewww…!" A couple of years later I looked at the same house, utterly charmed. The house hadn't changed at all. I had!
Beautiful homes in Ajijic starting at $150,000

What about the Quality of Construction?
Many of the better developers have started to cater to the growing foreign community in the Lake Chapala area putting in all the modern conveniences and construction specifications we are used to. Things that we take for granted in Canada or the U.S…. like grounded wiring, underground electrical, pressurized and purified water systems (so you can have a dishwasher and drink water right from the tap).
And amazing interiors–you'll see fabulous features you'd only expect to find in designer Better Homes and Gardens. Mexican architecture is so unique. Exposed red brick boveda ceilings and cupolas, handcrafted mouldings and expertly laid tiles in a variety of different patterns done by skilled craftsmen who take pride in their work. Typically it takes about six to ten months to build a home.
Outdoor Living in the Land of Eternal Spring
One of the things I can promise you is you are going to love outdoor living. Picture it this way: Hawaii meets Denver. Lake Chapala's latitude is roughly that of Hawaii's and it is a mile high, on par with Denver's elevation. Imagine eating most of your meals on the terrace! Our temperate climate (average 74 o F), sunshine almost every day of the year and virtually no humidity keeps us wanting to be outside in the fresh air. Almost all the restaurants offer outdoor dining and in fact, some only have "under the stars" al fresco dining.
Because we spend so much time outdoors, our gardens are extremely important to us. Household plants back home are full-grown trees here. Just about everyone has a gardener. And, why not when it's so affordable? Your garden quickly grows into your own private park! Poinsettia plants at Lake Chapala can grow to be trees here! There is something very therapeutic about living in the sunshine, surrounded by so much color. Here in Lake Chapala, you can have the home of your dreams and live in paradise.
If you decide to build instead of buying a home, we know the good (and some of the bad) developers and can also advise on the various locations and which ones are more popular and which ones we see are up and coming. We can recommend real estate agents we have had good experiences with in town. If you are thinking of retiring to Lake Chapala, Mexico, your dream home awaits you!