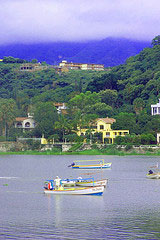 by Karen McConnaughey
Bill and I had three main reasons for picking the Lake Chapala area as our retirement destination of choice. We wanted…
– A temperate climate
– A lower cost of living
– To leave the rat race
We had both worked since we were 16, and we were just tired of it. I thought Bill would want to retire to Florida (where he lived previously) or Phoenix (where his daughter lived). We were both tired of Kansas City winters and never wanted to shovel snow again. I knew if he chose either of those places, he would be saying 'bye' to me in his rear-view mirror. I just couldn't take the heat or the humidity. And, I didn't want to have to live the rest of my life inside in air conditioning. I could do that in Kansas City.
When he brought up the idea of Lake Chapala, I seized upon it and started doing extensive research. Anyone who has read any of my blogs or articles knows I'm an information junkie, and I love the Internet, so it was a no-brainer for me to look at what I was getting myself into!
So many web sites, so much time: First I read, "Lake Chapala is Rated by National Geographic as among the Best Climates in the World … The semi-tropical climate in Lake Chapala, Mexico is probably the first major attraction to the area. This pre-colonial village in Western Mexico's Sierra Madre mountains makes for unparalleled living in a quaint Mexican village with all the services and amenities of lovely Guadalajara, Mexico's second-largest city, only about 30 minutes away."
So far, so good!
I found out that being nestled in the Sierra Madre mountains was a huge factor in the temperate weather. Lake Chapala is surrounded by protective mountains and the effect of the lake water moderates the temperature. The mountains are also the reason we have no fierce weather such as tornadoes, violent winds, ice storms, and definitely no snow! I had always said my whole life that I did not want to live any further north than Kansas City, Missouri. I had no idea what I was putting out to the universe! Thank you! Especially with the wild weather Kansas City has had the last two winters with two years in a row of at least 35 inches of snow.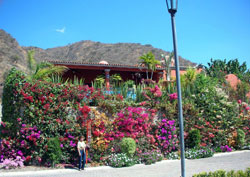 And do you know what Maui, Hawaii; Cozumel, Puerto Vallarta, Guadalajara, and Lake Chapala, Photo by Mary Lou and Bill Garcia Mexico all have in common? They all enjoy the same latitude. And, as Focus team mate, Kristina Morgan, pointed out in her series of articles comparing Lake Chapala with Hawaii, Puerto Vallarta and San Miguel Allende, "even though Lake Chapala is not located on the coast, it still boasts all the tropical trees and plants you'll find in Puerto Vallarta and Hawaii. In fact, Lake Chapala is the only place in the world that boasts every variety of flora that Hawaii has." All this without the possibilities of hurricanes. It doesn't get much better than that!
The Chapala Lake basin has a year round average temperature of about 72°F / 22°C. The temperature ranges from a low of about 50°F / 10°C in the winter months, to a high of about 90°F / 32°C in summer.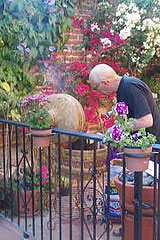 This area is over 5200 feet above sea level, about as high as Denver, but it is so far south that we can Grill outside all year long, never freezes here and the humidity is still relatively low. Even during the rainy season (June – October), it mostly rains at night. In fact, a rainy day is such a rarity, we often just sit out on the mirador and watch it rain while occasionally glancing at our book or magazine…what a life!
And have you ever dreamed of a place where you can have your doors and windows open all year long? Well, I'm not dreaming…we live in an area where very few (if any) homes or businesses have air conditioning, and heat is only needed about six weeks out of the year when we use our fireplaces during the early morning hours and in the evenings. It's great sleeping weather! April and May are our hot and dry months with temperatures in the 30°'s Celsius (80 to 90° Fahrenheit) with nighttime lows around 60°. Fortunately, it is the sun, not the air that is hot. When you step into the shade you can feel at least a 10-15 degree difference, so, honestly, we are always comfortable, no matter the time of year.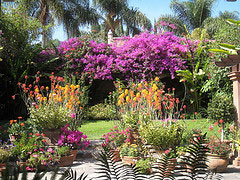 Carl Franz, known for traveling in Mexico off the beaten-path and co-author of People's Guide to Mexico, says, "Ajijic is nicely situated as a base for side trips around Mexico. Why not "settle down" for a while, we asked ourselves, and make it a temporary headquarters? He goes on, "Having said that, I have to admit that we've enjoyed our stay far more than we expected to and for several reasons. To begin with, as a native of the Pacific Northwest, I find that the climate here is even better than advertised. Seldom too hot, and rarely too cold; it comes as close to "perfect" as I've ever experienced. I'm a serious hiker, and it is a very, very rare day when it is too warm, too wet, or otherwise too unsettled to walk the lakeshore or explore the mountains behind the village."
I am so happy we found Lake Chapala with its breath-taking beauty and charm, and, of course, there is the lower cost of living. But the best aspect of Lake Chapala is our community. We have so many stories to share with you about the love and affection we receive from our Mexican friends and families. Are there bad people in Mexico? Of course! There are bad people everywhere. I don't know whether it's the love we give, but we have only received love back. It is the one thing that keeps us here above all others. Because what good is a temperate climate or a lower cost of living if you're not residing in an area you love? We are blessed by being drawn to this area, and we are not taking one instance of it for granted.
If you think you may want to be a part of it and see what living at Lake Chapala is like first-hand then I can't think of a better way to get all the information in order to decide if this may be you or not than joining us on a Focus on Mexico 6 day educational program.
C'mon down. You'll be glad you did.
Karen McConnaughey: Writer, Presentor and Facebook Poster for Focus On Mexico.
Focus On Mexico offers 6-Day Educational Programs to Ajijic and Lake Chapala, Mexico (Best Climate in the World!). Join us on a Focus program and learn why thousands of Americans and Canadians chose to retire in Lake Chapala.
Our programs offer the perfect balance; a wonderful vacation and an insightful, educational experience. Our expert speakers cover all topics: Health Care, Real Estate, Legal System, Immigration, Bringing Pets, Cost of Living, US Taxes for Americans, Non-Residency for Canadians, Living on the Lakeside, Investing in Mexico, Mexican Economy and much more…
You'll get everything you need to help you decide if Lake Chapala, Mexico is the place for you, plus have a lot of fun doing it. Retiring in Mexico couldn't be better.
[Feature Image of Lake Chapala courtesy of Bernd Peter Sawatzki]