A few months ago we gave an overview of Morelia, Michoacan in the post Focus on Morelia.  On a recent return trip to Morelia, we met Maureen, a Focus alumna who recently moved to Morelia from Lakeside.  She graciously agreed to sit down for an interview about her life, Focus, and Lakeside experiences and her move to Morelia.  We met for morning coffee at a charming downtown cafe/restaurant where the Morelia expats meet for a monthly coffee and have set up a small English lending library.
Please tell our readers a little about your background and how you came to Mexico.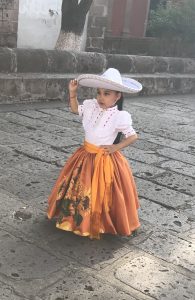 I grew up in Southern California and moved to Tucson, Arizona after marrying in my 20's, so I was exposed to a lot of Hispanic culture from a young age.  I decided I wanted to learn Spanish in my 30's and began dabbling in it as much possible while being a nurse and raising a daughter.  As I approached retirement at age 62 I realized that I did not want to continue living in the U.S. when I retired, so I started exploring different places to live.  I went to Ecuador, a beautiful country that I loved, but felt it was too far away.  Then I visited Panama and finally decided to take a look at Mexico since it was so much closer.  Prior to that I had always said that I would not choose Mexico because I had heard so much negative press about Mexico.  But when I got back from Ecuador, I was wondering what my choices were when I remembered an article I had read a long time ago about someplace called Lake Chapala, so I looked it up, took a trip down, decided that was the place, and moved to Lakeside in 2013.
What was your experience with Focus on Mexico?
I came on a Focus program in 2011 and I loved every minute of it.  The week-long program with classes in the morning and outings in the afternoon was a great combination of learning the things we needed to learn about making a decision to move to Lakeside, and it was fun.  I thoroughly enjoyed it and thought it was a terrific program.  I wasn't ready to move yet because I was still not retirement age but my roommate in the program moved down immediately and she gave me a place to stay on subsequent trips until I made the move about two years later.
Why would you recommend Lakeside to people thinking about relocating to Mexico?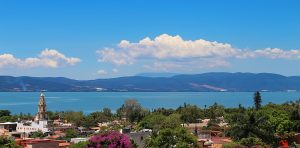 There are quite a few reasons.  I believe its an easier transition into another culture because there are so many Americans and Canadians living there.  It's a small community with incredible amenities for expats such as the Lake Chapala Society.  People are generally very friendly and the Mexican people are incredibly welcoming.  Because there are so many foreigners in the area, there are so many people who can perform the kind of services we need such as home repairs, etc.   The homes and places to live are much higher quality because they're catering to our tastes.  The natural beauty of the lake and mountains is incredible, not to mention the weather.
What did you like best about Lakeside for your lifestyle?
I have seasonal affective disorder so the sunshine is very important.  I love the ability to be outdoors most of the time whether hiking, walking or just eating outdoors.  The proximity to the Guadalajara airport is also a huge advantage.  It's so easy to make friends and for a single person that's very important.
What did you like least about Lakeside?
It's too small, I'm not used to small towns so that was difficult for me.
Tell us about your decision to move to Morelia
One of my goals in coming to Mexico was to become as proficient in Spanish as possible and that is difficult to do Lakeside because there are so many English speakers.  About two or three years ago I started thinking about possibly living in a place in Mexico that felt more authentic so I started venturing out visiting different cities, language schools, and possible places to live in Mexico and I kept coming back to Morelia before I finally decided to give it a year's try.
I came here in February 2019 for five weeks.  Even though I'd visited before I wanted to give it more time to see if Morelia was a fit for me.  I had met someone who lives here a year before so I had that initial contact and she introduced me to other people.  I went to some of the events that Morelia United offers and I looked at apartments.  The five weeks went well so I went back to Ajijic and decided to rent my house for a year and move to Morelia.
How has the adjustment been so far?
It was difficult at first, I felt a little lonely and isolated because I didn't know many people, but after a month to six weeks that went away and now I'm feeling really good.  As far as the city, I liked it right off the bat.
What is it you like about Morelia?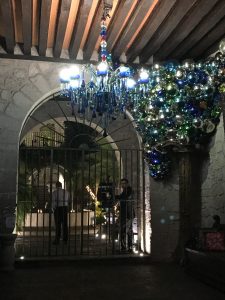 There are a lot of cultural things to do and many of them are free.  Because it's a city I don't have to drive an hour to go to Guadalajara to a shopping center or Costco.  There is good medical care available here.  The expats who live in Morelia and Pátzcuaro have a list of doctors they recommend and there are a medical school and many hospitals.
The public transportation system is very efficient, there are combis (small bus/vans) that take you anywhere in the city for 8 pesos, which is very convenient if you don't have a car or don't want to drive your car.  There are more movie theaters and there are people of all ages so that's nice.
There are advantages and disadvantages to the fact that Morelia is the capital of Michoacan.  There are a lot of demonstrations and there are also a lot of special celebrations on the holidays and the beautiful parades.
It's a relatively clean city that is not too big like Guadalajara or Mexico City, but it's big enough to have all the amenities of a city,
What advice would you give to people considering relocating to Morelia?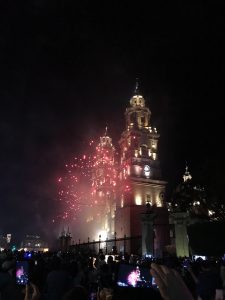 I think it would be a good idea to spend some time here on a temporary basis to try to get a feel for whether you would like it or not.  Rent at first because there are many different neighborhoods.  I've met people here who've rented and didn't like the neighborhood so fortunately, they were able to change that.  It's hard to know until you actually live in a place.
If you come here to get involved with the events the expats offer.  There are a monthly coffee and a monthly dinner and we've started an easy hike group.  There are also Shanghai Rummy and Bridge groups that are looking for new people.
How hard is it to find a place to rent in Morelia?
It depends on the area and your price range.  Fortunately, there is a great contact here who takes people out and shows them places for rent.  She also works as a translator and can help with visas or any other kind of legal documents, and she helps connect people with hospitals and doctors.
Let's wrap this up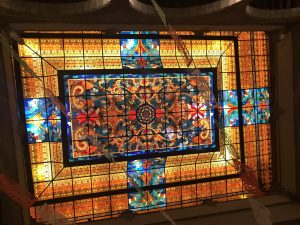 No matter where you're considering relocating to Mexico, Focus on Mexico is an invaluable resource to aid you in the decision making and transition process.  Morelia is only one example of many great locations in Mexico and if you're interested in Morelia or Patzcuaro you might want to come to a Focus seminar and extend your visit to those places which are only about 3 1/2 hours from Lakeside.
By Bette Brazel, Focus on Mexico Content Manager
Focus On Mexico offers 6-Day Educational Programs to Ajijic and Lake Chapala, Mexico. Join us and learn why thousands of Americans and Canadians chose to retire in Lake Chapala.
Our programs offer the perfect balance; a wonderful vacation and an insightful, educational experience. Our expert speakers cover all topics: Health Care, Real Estate, Legal System, Safety, Immigration, Assisted Living/Care Options, Bringing Pets, Cost of Living, US Taxes for Americans, Non-Residency for Canadians, Living on the Lakeside, Investing in Mexico, Mexican Economy and much more…