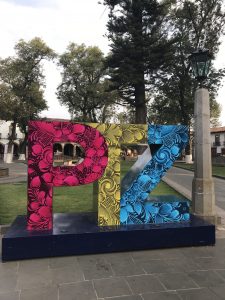 The month of May in Lakeside is hot (this year with temperatures often climbing to over 90F/32C). So we opted to explore the refreshingly cool high altitude city of Pátzcuaro, Michoacan, located about four hours south of Lakeside.  At 7,000 feet altitude Pátzcuaro has all the charm of a high mountain town surrounded with forests, a beautiful plaza and many coffee shops from which to choose.  With a population of ~80,000, Pátzcuaro is much quieter than nearby Morelia with its bustling population of ~800,000.  One plus of both Morelia and Pátzcuaro as compared to Lakeside are the flat city centers with no cobblestones.  Both cities have sidewalk accommodations for the disabled/wheelchairs in the downtown center.
Expat Life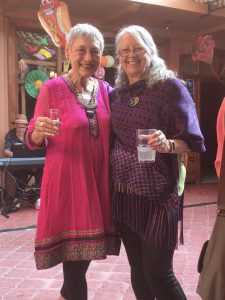 The people of Pátzcuaro are friendly and contemplative, there are regular book discussions, poetry readings, a sketching group, and other cultural activities.  The expats who live here tend to lead quieter and more independent lives, although they do host a monthly cocktail party and a weekly lunch at Lupita's, a favorite expat gathering spot.  Lupita's also features a small English lending library.  Many expats are involved in charitable activities and some teach English.  While here, we attended the monthly cocktail party and the weekly women's luncheon and found the expats to be friendly and inclusive.  They are generally very content and wouldn't live anywhere else.  Interestedly, there is a somewhat larger population of expats living in Pátzcuaro than in Morelia (around 200 although there are no hard numbers).
Aurora moved to Pátzcuaro after losing everything in Hurricane Harvey.  She loves her Pátzcuaro life but recommends that people do not buy homes sight unseen as she did, because although her location is good, the stairs in her home are proving to be a challenge.  Carolyn moved to Pátzcuaro in December 2018 and lives in a furnished apartment right on the plaza that she is planning to stay in on a long-term basis.  We also met a former Lakeside resident who moved to Pátzcuaro about one year ago and is very comfortable in his new location.
Real Estate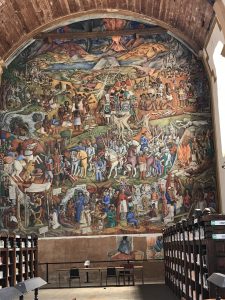 Rents and real estate tend to be less expensive than Lakeside and there are properties available both in the center and on the outskirts and in surrounding towns.  One expat lives with her husband in a comfortable two bedroom home with an office and an art studio that rents for $650 per month and is located only a 15 minute walk from the main plaza.
Medical Care
Like most of Mexico, Pátzcuaro offers quality medical care at reasonable prices and most doctors speak English.  I'm told that the best doctor in town charges 500 pesos ($26) for a consult and there is a new private hospital in the area.
Exploring Patzcuaro and Its Surroundings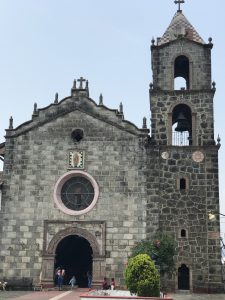 The charm of Pátzcuaro includes the nearby indigenous villages, each with their own character and craft,  and the ancient ruins of Yacatas at Tzintzuntzan.  Trips to the villages are greatly enhanced if you go with a knowledgable guide who can help you gain a better understanding of both the history and culture.  Whether you want to take a shopping trip to the best artisans in the region or a history tour of  the town and its outlying villages,  Jaime Hernández Balderas of Animecha Tours, a Pátzcuaro native, and a trained historian who speaks fluent English, can help you gain a deeper understanding of the indigenous life and history of Pátzcuaro and its surroundings.
Places to Stay
There are a number of hotels on and near the plaza at varying prices.  If you are looking for a one-of-a-kind experience, Hotel Casa Encantada is a 17th century home lovingly restored by Victoria Ryan, who has converted it to a beautiful B&B that offers a complete traditional Mexican breakfast cooked in its restored indigenous kitchen.  Victoria, a 25-year resident of Pátzcuaro, can help you arrange trips with Jaime and give you any information you need about the area.  For those Mexico residents wanting to escape lower altitude heat in May, Victoria also has several apartments for rent right in town.
What's the Down Side?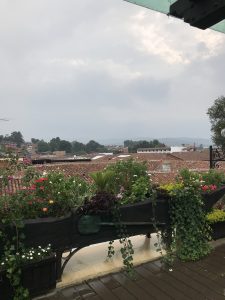 As Victoria Ryan says, Pátzcuaro may not be the best place for those who require a lot of external stimulation.  The rainy season from June-October is more pronounced than at lower elevations with rain in the afternoons and more frequent overcast skies.  In January the low temperatures can drop to as low as 35F/1C and most homes have fireplaces for the cold weather.  Jeans, sweaters and jackets are necessary most of the year at some point in the day, but it is never cold enough to snow.
The Morelia airport is 1 1/2 hours from Pátzcuaro and a taxi to the airport costs about 600 pesos, the same as a taxi to the Guadalajara airport from Ajijic, but with the disadvantage of less direct flights to the U.S. from Morelia than from Guadalajara.
Let's Wrap This Up
Why not come down and explore for yourself?  Our seminars will provide you with invaluable information regardless of where you choose to live in Mexico.
By Bette Brazel, Focus on Mexico Content Manager
Focus On Mexico offers 6-Day Educational Programs to Ajijic and Lake Chapala, Mexico. Join us and learn why thousands of Americans and Canadians chose to retire in Mexico. Our programs offer the perfect balance; a wonderful vacation and an insightful, educational experience. Our expert speakers cover all topics: Health Care, Real Estate, Legal System, Safety, Immigration, Assisted Living/Care Options, Bringing Pets, Cost of Living, US Taxes for Americans, Non-L for Canadians, Living on the Lakeside, Investing in Mexico, Mexican Economy and much more…