By David Huff
Editor's Note: David Huff is an avid reader and contributor to the inFocus newsletter. We are glad he took the time to write some common-sense advice about visiting Mexico in general, and Lake Chapala specifically. Whether you live here or are just visiting, please do not "leave your brains at the border!"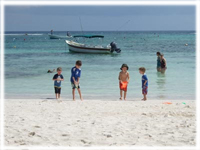 The question, "Is Mexico Safe?," has been raised numerous times over the nearly two years that Catherine and I have been retired and living at Lake Chapala. With frequent and numerous news reports and specials, the question is now foremost in the minds of many Canadians and Americans. Allow me to address this topic based not only on our two years of residency but on nearly two decades of travel within Mexico.
After years as a host family of foreign students, most from Mexico, studying English at Maur Hill Academy in Kansas, Catherine and I began to accept gracious invitations in the early 1990s to these boys' homes and experience first-hand their family culture as we had imparted our American culture to them in a family environment. During these past two decades, we have visited 18 of the 31 Mexican states, initially as vacationing tourists until about 10 years ago when we became serious prospects of retirement living. We traveled the typical border regions of Juarez, Tijuana, Cuidad Acuna and Nuevo Laredo as many tourists do, as well as the resorts of Puerto Vallarta, Cancun and Cozumel, but the real and cultural Mexico requires you to abandon the beaten paths of tourists as we did and visit such wonderful colonial communities as Queretaro, San Miguel de Allende, Guanajuato, San Luis Potosi and Aguascalientes. When the adventure bug was really biting, we visited the quaint communities, many of which were home to our boys, of Cuidad Obregon, Los Mochis, Monclova, Cuidad Mante, Merida, Puebla and Tampico. What has this traveling experience taught us?…that Mexico has beautifully warm and welcoming people and a historical culture and sights right next door to the United States that many travel the continent of Europe to see.
So, have we felt safe in our travels?…a resounding yes! There have obviously been changes in our world over these nearly two decades and, today, there would be some reluctance to visit our US/Mexico border communities, but our basic guiding principle then as today is please do not leave your "common sense" unpacked. Do I fault the news media for these recent on-going reports?…no, it is their job to report the news. However, I do believe they could practice less bias and more clarified information on Mexico.
The Lake Chapala region is a wonderful blending of world cultures and experiences lived daily in the lives of our Mexican neighbors and our expatriate community. We are an hour south of Guadalajara, Mexico's second largest metroplex, so we have exposure to all the opportunities offered by a city of four million plus while still enjoying the peaceful serenity of small community lifestyle surrounded by mountain ranges to our north and a beautifully refurbished Lake Chapala with its beaches and malecons offering the best in family value living. Does Lake Chapala have crime?…sure, but where worldwide are we crime free? Local crime is petty vandalism and theft for the most part. Lake Chapala is not an active link on the drug cartel trail and has been spared the violence that has been most evident along the border.
I spoke previously regarding the fact that one should make sure to pack "common sense" as part of their traveling gear. Let me elaborate with a few specifics. Mexico is a developing nation and as such, just as there are preconceived notions of Mexicans in the minds of those living north of the border, many Mexicans pre conceive Canadians and Americans as rich gringos. When packing to visit Mexico, bring comfortable and modest clothing and not your most eloquent wardrobe…even coastal resorts are not the place to flaunt your affluence. There is no place in Mexico where excessive jewelry is required or appropriate, so leave at home your expensive watches, bracelets, necklaces and diamonds and be content with a single ring and simple accessories. Why draw attention to yourself and your apparent possessions that might tempt harm to you?
Another common sense element is in relation to your cash. With ATM machines in plentiful supply at lakeside and in resort communities and the metropolitan areas, it is best to leave your cash in a bank back home and withdraw funds as needed in pesos with your bank card. Keep in your billfold or purse the cash (pesos) required over the short haul. It is wiser to pay a few extra bank (ATM) fees and replenish cash more often than be seen with a large wad of cash in a store or restaurant and tempt someone to action. If you are carrying significant cash, at least be wise enough to split it up among spouses/friends or on your person so that if the worse happens, you might minimize your loss. Ladies, consider a handbag with a strap long enough to wear over head and shoulder so as it hangs at your side you will feel or grasp with your hand or wear a fanny-pack around your waist rather than carry a purse. Make sure the handbag or pack has a good zipper and it is zipped shut. Men, carry your billfold in a side rather than a back pocket or assure the back pocket is deep so your wallet rests low on your hip to avoid theft. The suggestion of a fanny-pack for ladies is likewise beneficial for men. I like the comfort of an oversize shirt and find it a wise move to wear one with a long tail that covers back trouser pockets as added protection.
My wife and I enjoy an evening walk at times and feel perfectly safe doing so when we follow a few simple safety guidelines. Again remember to dress casually to avoid drawing attention and walk along well-lit and more heavily traveled streets or where shops are still open for business. It is always wiser to walk with a companion or in a small group rather than venturing out, especially at dusk or dark, alone. Cobblestone streets, drop-off curbs and unexpected depressions in sidewalks are common lakeside, so watch your footing more than gawking at the sights. Stop and satisfy your sights then resume walking when once again you are able to concentrate on the path.
Many of us enjoy an evening out for a drink or entertainment but never forget that alcohol can impair your common sense judgment allowing you to say too much or flash cash or inhibit your walk or drive home and target you for trouble. Mexico does have penalties for driving under the influence and a Mexican accident is no fun, so don't tempt fate on what could be a wonderful evening and allow it to end up with you in a hospital or worse, jail. Taxis are a reasonable cost and regulated for your safety and convenience. Another wise move is to enjoy the lounge entertainment provided by your restaurant or lodging and minimize alcohol drinks until safely home.
Mexico has wonderful public transportation at reasonable fares. Many choose to leave their personal car at home when traveling to Mexico and fly to one of the international airports within Mexico serviced by most major air carriers. Lake Chapala is a mere 30 minutes south of Miguel Hildago (Guadalajara) International airport on a divided multi-lane highway. Fare-regulated (safe) taxis from the airport to Ajijic/Chapala are $350 pesos ($21USD) and once you're at the lakeside, taxis are safe, plentiful and inexpensive; and for a special delight, join the native community traveling by comfortable and inexpensive buses. There are scheduled bus service almost hourly from downtown bus stations in both Ajijic and Chapala to about downtown Guadalajara on modern and clean intercity buses for a one-way fare of about $45 pesos ($3usd) for the approximate one-hour trip. Remember, lakeside, for the most part, has quaint and narrow cobblestone streets inappropriate for large SUVs, vans and trucks, so leave them in Canada or the United States whether vacationing or moving to live lakeside and eliminate the possibility of accidents when navigating our charming streets.
I hope one or more of these tips encourage you to visit Mexico, especially the Lake Chapala region with the second best year-round climate, and experience first-hand a vacation land or new home that offers as safe an environment you have known north of the border. In closing, remember my basic rule, remember to pack a "healthy" supply of common sense and come on down and enjoy beautiful Mexico.
Bienvenidos (Welcome) a Mexico…